Yocan Verve Incognito Carto Battery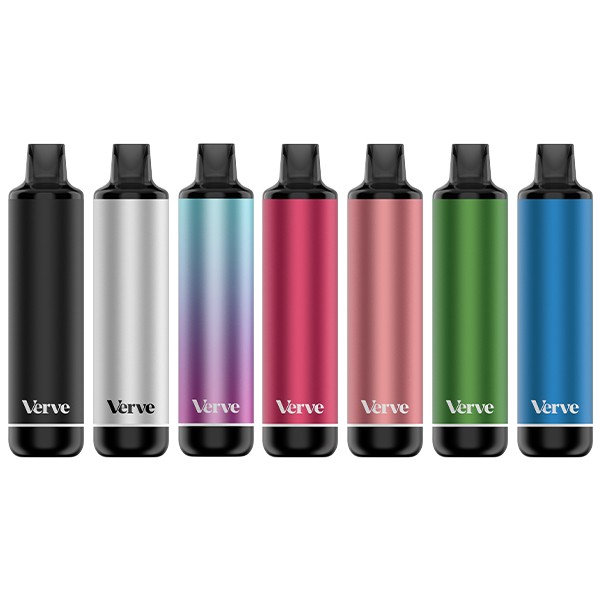 Yocan Verve Incognito Carto Battery
L A Y L O W W I T H Y O U R F A V O R I T E C A R T R I D G E .
The Yocan Verve is the latest draw-activated 510 vaporizer battery with a hidden cartridge design. This new device is touted as a way to perfectly lay low with your favorite cartridge, allowing users to take their sessions as discreetly as possible. Showcasing a fresh circular design paired with an elegant metallic finish, the Verve is perfectly palm-sized. This design ensures a lightweight and ergonomic experience, making it discreet, dependable, and durable for your on-the-go needs.
Incognito Cartridge Battery
Effortless Auto-Draw
Variable Voltage
Fits up to 2g Cartridges
POWERFUL BATTERY - Powering the Yocan Verve Cartridge Vaporizer is a 450mAh battery. The power source can provide more than enough juice for the vaporizer as vaporizing oils, unlike herbs and wax concentrates, require only a small amount of power. Recharging the Yocan Verve Cartridge Vaporizer can be done using USB type-C technology, which is undoubtedly faster and more stable than previous and dated charging systems.
VARIABLE VOLTAGE SETTINGS - The Yocan Verve Cartridge Vaporizer — despite its small size — is equipped with three voltage levels. These voltage levels are 2.6V, 3.2V, and 3.8V. The lowest temperature setting is perfect for releasing the aromatic and flavorful active ingredients found in the essential oils. Vaping using this profile is ideal for when you want to enjoy a calming session, say, after a long day's work. Meanwhile, the highest voltage level is perfect for when you want to reap the psychoactive effects of your select materials as the said temperature level is good for activating the psychedelic ingredients naturally found in these oils. As for those who want to find the perfect balance between flavor and potency can select the middle voltage setting for the best of both worlds. There is literally no button found on the body of the Yocan Verve Cartridge Vaporizer, so to change temperature levels, all you need to do is to inhale three times on the mouthpiece to change the voltage setting.
ALUMINUM BODY - The Yocan Verve Cartridge Vaporizer is built with an aluminum body, which helps to protect the cartridge inside. Aluminum does well to keep the glass or plastic cartridge safe and out of damage. The aluminum shell will safeguard the cartridge when you keep it inside your pocket as t will act as a shield from hard and sharp objects that might cause dents or puncture the cartridge.
EASY & SIMPLE TO USE - One of the best features of the Yocan Verve Cartridge Vaporizer is that it is user friendly. Compared to other cartridge vaporizers, the Verve is simple and easy to use. For example, having to draw vapors from the device only requires the owner to pull from the mouthpiece. There is no need to press any buttons or activate any combinations, just inhale from the mouthpiece and enjoy the benefits of vaping your favorite oils.
Sold individually.
(DISPLAY BOX COUNT - 10)
Cartridge is NOT included.