Yocan STIX Plus Kit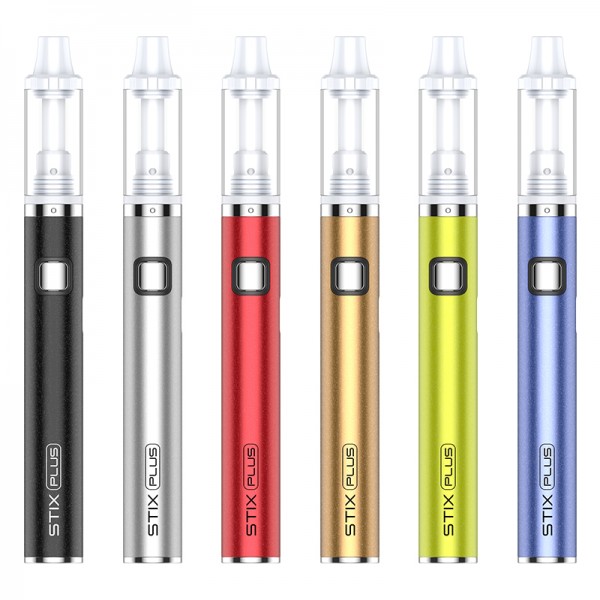 Yocan STIX Plus Kit
D U A L T E C H T A S T E P L U S .
The Stix Plus Kit from Yocan, containing the prominent dual-core ceramic cartridge, is a high-quality and refillable concentrate vaporizer. The dual ceramic heating elements not only provide a double volume of clouds but also deliver a superior and pleasant experience.
PURITY, HEALTH, & A PLEASANT EXPERIENCE - The Yocan Stix Plus can deliver delectable vapor quality and can generate big clouds. The cartridge utilizes a full dual-core ceramic heating element as to maintain the intactness of oil quality and deliver delectable vapor production along the way to the last drop.

Specifications:
Cartridge Parameters:
Dimension: Φ14mm x 44.5mm
Material: Full Ceramic & Glass
Capacity: 1.0mL
Resistance: 1.0Ω
Battery Parameters:
Dimension: Φ14mm x 85mm
Material: Stainless Steel
Battery Capacity: 650mAh
Voltage Range: 3.0V, 3.5V, 4.2V
Operation: Button Activation
Thread: 510
ONE BUTTON FOR ALL - Enjoy ease of use with just a few clicks. Click 5x rapidly to power your device on or off. Click 2x rapidly and you will activate the pre-heat mode at 1.8V for 10 seconds. Click 3x rapidly and you can choose a voltage level, indicated by the LED lights (3.0V - White / 3.5V - Blue / 4.2V - Green).
TYPE-C CHARGING - Boasting a 650mAh rechargeable battery can provide users all day long vaping without an issue. A universal-compatible Type-C charging port on the right side of the battery secures hassle-free, safe charging.
Box Contents:
1 x Stix Plus Vaporizer Pen
1 x Type-C Cable
1 x User Manual