Yocan Pillar E-Rig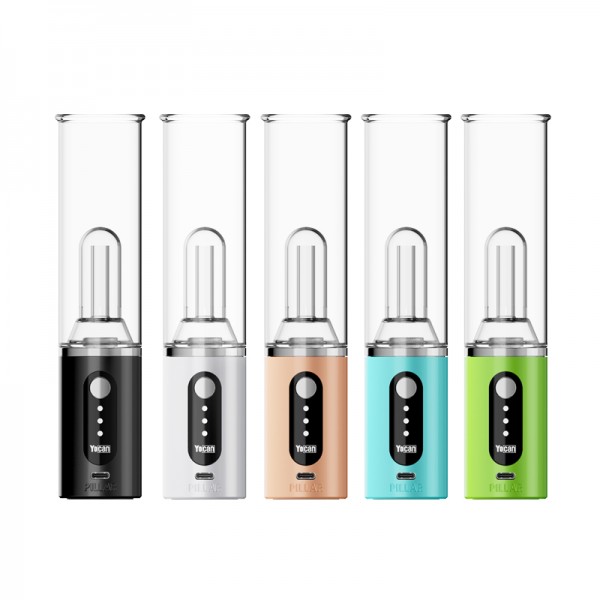 Yocan Pillar E-Rig
W O R L D S F I R S T S M A R T E - R I G W I T H T G T H E A T I N G T E C H N O L O G Y .
The Pillar E-Rig is the newest device from Yocan, utilizing the brand's latest TGT Coil technology to ensure superior vaporization of your wax concentrates while introducing the elements of water filtration and moisture conditioning. The TGT Coil combines a ceramic donut coil with the quartz XTAL rod to produce some of the best-tasting vapors you have ever inhaled. Using a reliable 1400mAh battery, the Pillar can last you several sessions making it the ideal companion whether you're dabbing alone — or partaking in a group session. If you want to level up your dabbing sessions, then you should definitely consider getting this device.
Specifications:
Size: φ40mm x 183mm
Body Material: Zinc Alloy
Battery Capacity: 1400mAh
TGT Coil Resistance: 0.4Ω-0.5Ω
Adjustable Voltage: 3.2V - 3.7V - 4.2V
Safety Cut-Off: 30 seconds
Charging Type: 5V/0.8A, Type-C
Charging Time: 2 hours
ADVANCED TGT COIL - The Pillar TGT Coil combines ceramic donut and quartz XTAL rod. With no exposed coil, your concentrate wont go straight into a coil; Instead it will be on the ceramic donut and melt into the XTAL rod. You can get enormous vapor with excellent sapor by the perfect combination of ceramic and quartz. TGT Quad Coil, which is also included in the kit provides you with the best vapor production.
QUICK-CONNECT MAGNETIC CONNECTION - The Pillar utilizes a quick-connect magnetic connection to secure the glass mouthpiece, adding to the convenience of loading your concentrate into the coil connected to the base. Just put it back and youre ready to enjoy!
THREE VOLAGE LEVELS - The Pillar features a varied voltage range (3.2V, 3.7V, 4.2V) that opens the gateway for both DTL & MTL vaping. Simply press the button 3 times to switch the voltage.
HEFTY & DURABLE - With an ergonomic design, crafted using a best-in-class zinc alloy, the Pillar is hefty and durable. Its compact design allows it to sit comfortably in your hand for one-handed operation.
ADJUSTABLE AIRFLOW - The adjustable airflow design lets each user modify the speed of air intake - pairing impressively smooth hits with the perfect strength for every users preferences. Now you can now really personalize your experience on this smart e-rig.
TWO FLEXIBLE WORKING MODES - Press the button 2 times to enter auto-mode where the output voltage will be your settles voltage, auto-off after 30 seconds. On-demand mode can be accessed by pressing and holding the button to start vaping with a 30 second auto cut-off feature.
TYPE-C CHARGING - Utilizing Type-C charging, the Pillar E-Rig is quicker to recharge, with the 1400mAh battery going from zero to full in just under 2 hours. This water-filtered, smart e-rig is the best traveling companion.
Box Contents:
1 x Pillar Device w/ Glass Attachment
1 x Coil Adapter (pre-installed)
1 x Pillar TGT Coil
1 x Pillar TGT Quad Coil
1 x Pick Tool
1 x Type-C Cable
1 x Instructions Manual