Yocan LOKI Vaporizer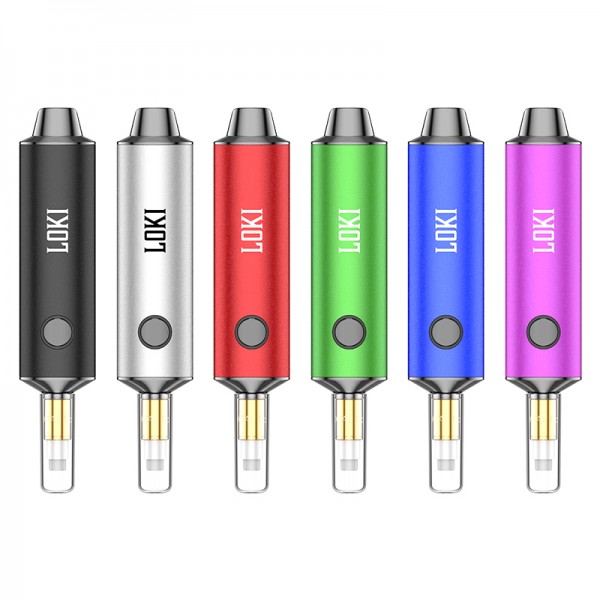 Yocan LOKI Vaporizer
D A B S M A L L .
Say hello to Yocan's smallest and lightest portable concentrate vaporizer, Loki. Featuring isolated dual air paths and a newly designed XTAL Tip, Loki produces optimally original flavor delivery. Powered by an internal 650mAh capacity battery that can be quickly recharged via a Type-C Charging Port, Loki excels in long-lasting power supply. Packed into an aluminum alloy body, the Loki is extremely lightweight yet indestructible.
DUAL AIR PATHS - With isolated dual air paths built inside, the dense vapor production will flow into two air paths smoothly. It then gets cooled down by the aluminum alloy housing to offer an immensely flavorful rip!
POWER UP YOUR DAY - The newly designed XTAL Tip now has an enlarged Quartz Tip and an embedded heating element. This provides a larger heating area and no metal exposure to deliver an intense and delectable rip! It also features five air holes to balance airflow and scrub off excess concentrate with ease.
Specifications:
Dimensions: 136.8mm x 27.5mm x 13.6mm
Material: Zinc Alloy + Aluminum alloy
Battery Capacity: 650mAh internal
Voltage: 3.2V(white), 3.7V(blue), 4.2v(green)
Activation: Button-activated
Modes: On-Demand & Session
Charging: 5V/0.7A Type-C
Thread: 510
TWO FLEXIBLE WORKING MODES - Enjoy two different working modes with 15 second auto cut-off protection via a white light flashing 5 times. To use On-Demand Mode, press and hold the fire button and start vaping. To enter Session Mode, press the button 2 times and enjoy.
THREE FEATURED VOLTAGE LEVELS - The Loki features a functional adjustable voltage option with three different power levels to ensure the best vaping experience based on your needs. To adjust the voltage level after switching on the device, press the power button rapidly 3 times. A white light will indicate the voltage is set at 3.2V, a blue light will indicate the voltage is 3.7V, and a green light indicates the voltage level is set at the highest level at 4.2V.
SIMPLISTIC - The ergonomic design has not been discarded, albeit a compact, portable body. All operations are based on one fire button; intuitive and friendly. Simply press for an instant fire up, shrinking down the usual wait time.
Box Contents:
1 x Loki Vaporizer
1 x Loki XTAL Tip (pre-installed)
1 x Type-C Charging Cable
1 x Instructions Manual