Yocan Keen Vaporizer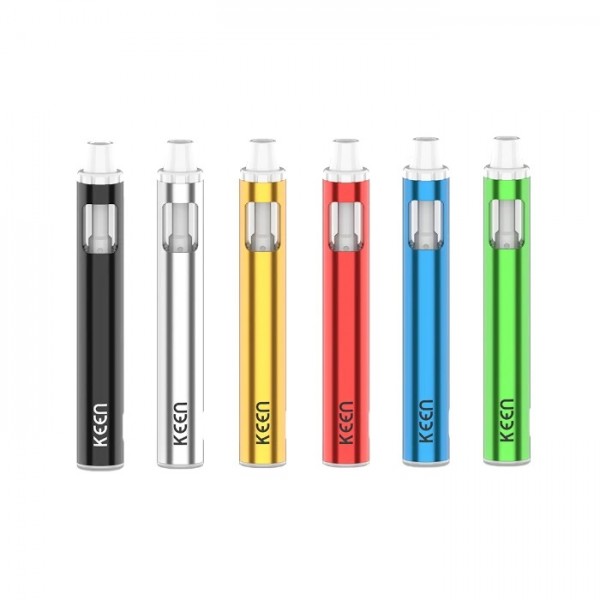 Yocan Keen Vaporizer
T H E P E R F E C T C O M B I N A T I O N O F D I S P O S A B L E & R E C H A R G E A B L E .
The Keen Vaporizer from Yocan is a beast of a device. The disposable design allows for the utilization of full ceramic heating elements and a ceramic mouthpiece, all inside a stainless steel housing. The 1mL capacity empty tank has a ceramic 1.4Ω coil that is best used for thicker concentrate CBD and THC oils. The internal 400mAh rechargeable battery supports Type-C charging so you can actually enjoy your vaping session, not watch your device recharge. It also has variable voltage so you can customize your experience, even with a disposable-style design.
Specifications:
Dimensions: 14mm x 97.5mm
Tank Capacity: 1mL
Weight: 27g
Resistance: 1.4Ω
Battery Capacity: 400mAh
Intake Hole: 4*Ø1.7mm
Heating Coil: Ceramic
Charging: Type-C port
Variable Voltage: 3.0V / 3.7V / 4.2V
BUTTON ACTIVATED, PREHEAT, INHALE - Simply press the power button, located on the bottom of the device, 5 times to turn on and off; a white light will flash 5 times slowly indicating the process. Click the same button 2 times to activate the pre-heat function, warming up your oil at 1.8V for 10 seconds; a white light will remain on for the entirety of the preheat cycle.
THREE VOLTAGE LEVELS - The Keen Vaporizer features three different variable voltage outputs, catering to your multiple vaping needs. Press the power button 3 times to select your desired voltage level. The lowest voltage setting is 3.0V, indicated by a white light. A blue light will indicate 3.7V and a green light will indicate the highest level, 4.2V.
RECHARGEABLE, REFILLABLE, & DURABLE - Combining a 400mAh rechargeable battery with a Type-C charging port will help prevent the unnecessary waste of your oil. After connecting a charging cable (not included), a red light will remain on as it charges. Refill your tank multiple times and experience the effortless portability and durability that is the Keen Vaporizer.
Sold individually. Charger is not included.