Yocan Apex Kit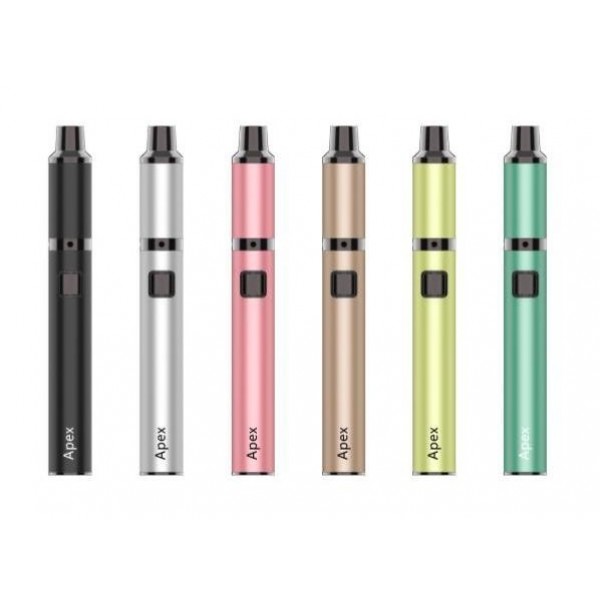 Yocan Apex Kit
H E A T I N G I N W A V E S .
The Yocan Apex is a discreet, sleek, concentrate pen that proves to be the perfect alternative vaporizer for users on the go! It is equipped with the popular QDC Coil the provides you with the purest experience and guarantees a crystal clean, smooth essence.
FUNCTIONAL COIL CAP - The Apex has a functional coil cap which is designed to keep your thick oil from leaking and prevent your mouthpiece from getting hot.
THREE FEATURED VOLTAGE LEVELS - The Apex features a functional adjustable voltage option, ensuring the best vaping experience based on the needs of the user. To adjust the voltage level after switching on the device, press the power button rapidly three times.
White - 3.4V
Blue - 3.8V
Green - 4.2V
HEATING IN WAVES - The working voltage outputs in waves after 4 seconds from 2.5V to your desired voltage in cycles, ensuring the user a fresh taste of concentrate the whole session.
MICRO USB CHARGING - The convenient built-in USB charging allows you to charge it anywhere with your power cord, always ready to use on the go!
COMPACT AND PORTABLE - The engineers focused on keeping the design compact and the result is possible the smallest vaporizer available today. Discreet yet effective.
Kit Includes:
1 x Apex Pen
1 x Extra QDC Coil
1 x Pick Tool
1 x USB Cable
1 x Instructional Manual