Wotofo SRPNT RDA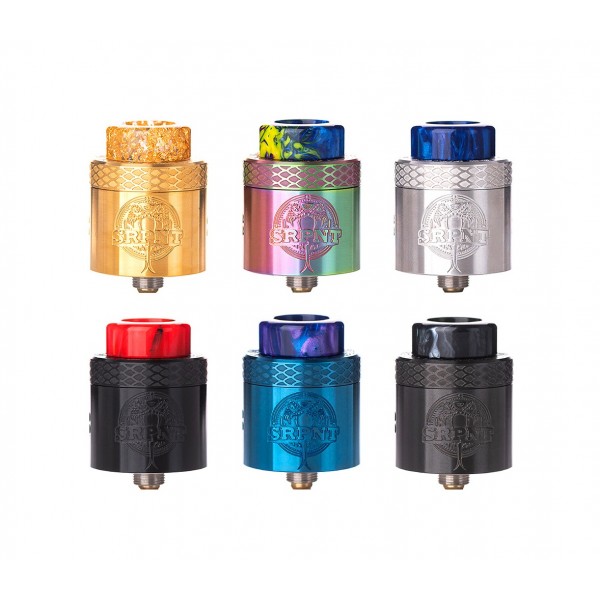 Wotofo SRPNT RDA
A B A L A N C E B E T W E E N L A R G E & S M A L L .
The Wotofo SRPNT RDA is a dual coil rebuildable atomizer with a unique build deck design. The stainless steel construction of the RDA gives it superior build quality and is available in a wide range of different colors. The SRPNT RDA is the latest addition to the Wotofo Serpent Family, coming in as a massive upgrade to the product lineup designed to offer you a bespoke vaping experience.
Specifications:
Diameter: 24mm
Height: 22.7mm (without drip tip & 510 pin)
Drip Tip: 810 resin drip tip
Body Material: Stainless Steel
Coil Type: Wire Coil
Coil Configuration: 3mm ID dual coils / 5mm ID single coil
Juice Feeding Method: Drip
Insulator Material: German PEEK
Threading: 510
ENJOY A SUPERIOR VAPING EXPERIENCE
This elegant and beautiful RDA boasts an innovative deck design that guarantees a superior vaping experience using 5mm ID Clapton Coils. The new 5mm ID Clapton Coil can generate significant heat across a wide surface area to ensure optimal vapor cloud production in an instant.
COMPATIBLE WITH BOTH SINGLE & DUAL COIL BUILD
The unique deck design of the SRPNT is structured to support 3mm ID coils for a dual build to make an already amazing vaping experience, even better. The 5mm ID Clapton is a dual-core fused coil for a single build that works with a resistance rating of 0.65Ω, operating ideally at 76W power. The 3mm ID Framed Staple Clapton Coil is designed for a dual build, boasting a resistance rating of 0.17Ω, working best between 60W and 75W.
5mm ID Dual Core Fused Clapton (Single Build)
Material: Ni80
Resistance: 0.65Ω
Inner Core: 26Gx2
Outer Wire: 38G
Internal Diameter: 5mm
Best at: 76W (single build)
3mm ID Framed Staple Clapton (Dual Build)
Material: Ni80
Resistance: 0.17Ω
Inner Core: 28G+38Gx9+28G
Outer Wire: 36G
Internal Diameter: 3mm
Best at: 60W-75W (dual build)
You can select the coil configuration based on your vaping preference with either 5mm ID Clapton for a single coil setup or the 3mm ID Framed Staple Clapton for a dual coil setup. The adjustable airflow level control helps you tailor the settings to ensure that you get the best out of the flavor and vapor production and enjoy a superior performance from one of the best RDA coils that you can get your hands on.
Box Contents:
1 x SRPNT RDA
1 x 5mm ID Dual Core Fused Clapton 0.65Ω
1 x 5mm Thick Cotton Strip
2 x 3mm ID Framed Staple Clapton 0.33Ω
2 x 3mm Thick Cotton Strip
1 x Crosshead Screwdriver
1 x Allen Key
1 x Accessory Bag
1 x User Manual