Wotofo SMRT Pod RPM 2 Kit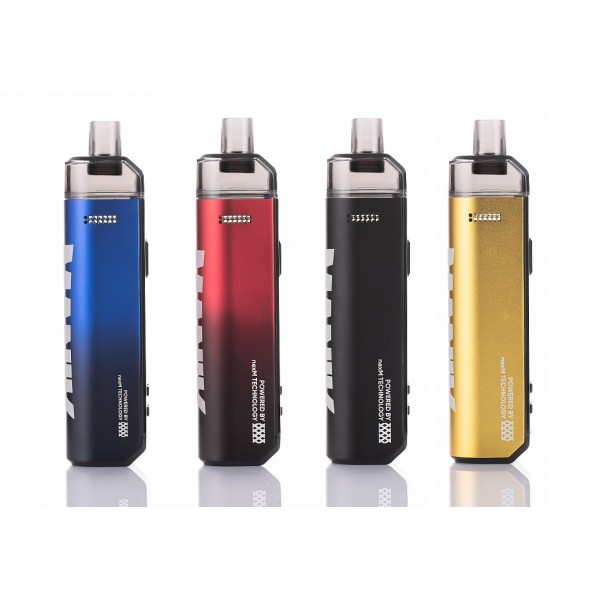 Wotofo SMRT Pod RPM 2 Kit
T H E M O S T D Y N A M I C P O D S Y S T E M .
With the SMRT Pod RPM 2 Kit from Wotofo, you get a flavor-enhancing airflow system with a substantial 4.5mL capacity pod, an internal 2000mAh li-ion battery device with Type-C fast charging, and nexCHIP Technology, making sure that its 80W output is safe. The SMRT Pod Kit allows you to use your vaporizer without worrying about endlessly fiddling with complex settings that you don't understand. The playability of the kit allows everyone from beginners to veteran vapers to use the product for an enjoyable experience.
The vaping industry has been growing rapidly in the last few years, with products coming in all shapes and sizes. Vape products have increased in popularity among everyone and even among people who are transitioning from smoking. However there are a lot of former smokers that feel vapes are too bulky, tricky, or complicated. Fortunately, vape pods like the SMRT Pod Kit present them with the perfect device, providing a compact and portable solution without compromising on the vaping experience.
Specifications:
Dimensions: 29.2mm x 23mm x 117.3mm
Main Material: Aluminum Alloy + PCTG
Output Power: 5W to 80W
Battery Type: built-in 2000mAh
Pod Capacity: 4.5mL
Pod Cartridge Type: Refillable Pod for Replaceable Coils
Filling Method: Side Filling
Airflow Type: Adjustable Airflow
Display: 0.96" TFT
Charging Port: Type-C
Charging Current: DC 5V / 1.5A
PLAYABILITY MATTERS - At Wotofo, we believe a good vape product should also be playable, so it should be designed to interact more with its owners. Now presenting the SMRT Pod RPM 2 Kit, the most playable pod system on the market!
THE MORE YOU VAPE, THE MORE CHARMING IT BECOMES - Wondering what SMRT is? SMRT is a brand new solution we developed to level up more interactions between vape products and vapers by offering easy, rebuilding options for coil heads.
LESS MONEY, MORE FUN - With the SMRT Pod RPM 2 Kit, you get 1 x SMRT Coil, 6 x Mesh Wires, and 6 x Cotton Pieces, all of which is equivalent to 6 coils! Time to roll up your sleeves as there is so much satisfaction in vaping with the coil heads you built yourself.
>>> See the SMRT Coil Building Guide Here >>>
GIVE YOUR EVERY-DAY VAPE THE FUN IT DESERVES - There are RDAs and RTAs for veteran vapers who know the fun of rebuilding. Now for vapers who prefer pod vaping, such fun also becomes available! The SMRT Pod RPM 2 Kit is packed with various coil options that will bring you joy and excitement every day.
NEXMESH FOR SMRT RPM 2 REBUILDABLE COIL - Interchangeable with SmokTech RPM 2 Coils, compatible with SMRT RPM 2 Pod Cartridge.
nexMESH Chill for SMRT RPM 2
Resistance: 0.15Ω
Best Power 37W to 43W
Smooth Flavor
Great Vapor Production
nexMESH Turbo for SMRT RPM 2
Resistance: 0.15Ω
Best Power 37W to 43W
Heightened Flavor
Thick Vapor Production
nesMESH Extreme for SMRT RPM 2
Resistance: 0.20Ω
Best Power 45W to 55W
Vigorously Warmer Flavor
Heavy Vapor Production
PLAYING WITH EVEN MORE FLAVORFUL EXPERIENCES - Replacement sub-ohm coils for the SMRT RPM 2 Pod Cartridge.
#D33 Clapton Mesh Coil
Resistance: 0.15Ω
Power Range: 40W-60W
Best Power: 45W-50W
#D34 Net Mesh Coil
Resistance: 0.20Ω
Power Range: 30W-55W
Best Power: 45W-55W
#D32 Dual nexMESH Coil
Resistance: 0.16Ω
Power Range: 20W-40W
Best Power: 25W-35W
#D31 A1 Conical nexMESH Coil
Resistance: 0.15Ω
Power Range: 35W-50W
Best Power: 45W-50W
THOUGHTFUL INSIDE AND OUT - Equal attention and efforts have been put into the appearance and performance of the SMRT Pod RPM 2 System. Durable gradient color finish, flavor-enhancing airflow system, 4.5mL big pod capacity, 2000mAh li-ion internal battery, Type-C fast charging, and an 80W output guarded by nexCHIP Technology.
Kit Contents:
1 x Manik S Mod
1 x SMRT RPM 2 Pod Cartridge
1 x SMRT RPM 2 Rebuildable Coil Kit
1 x #D33 Clapton M Coil (interchangeable with Smok RPM 2 Coils)
1 x Type-C Charging Cable
1 x User Manual