Wotofo Profile PS Dual Mesh RDA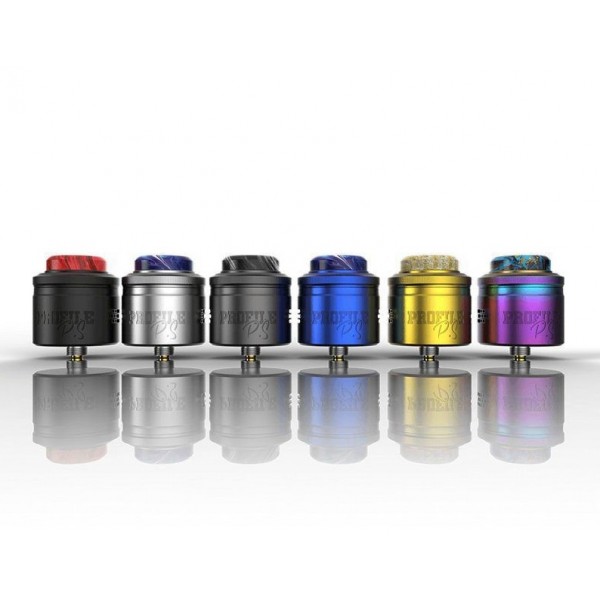 Wotofo Profile PS Dual Mesh RDA
D O U B L E U P T H E M E S H , D O U B L E U P T H E P E R F O R M A N C E .
Want to level-up your single-mesh vape? Wotofo has collaborated with MrJustRight1 to create the Profile PS Dual Mesh RDA and bring you one of the best dual mesh RDAs that you can get your hands on for a more flavorful vaping experience. With the Profile PS, you do not need to worry about too much resistance creating a problem for you when you are building with low resistance dual mesh coils. How? By allowing you to turn the standard parallel deck into a series deck with its advanced mesh build deck.
Specifications:
Deck Diameter: Ф28.5mm
Overall Height: 35.5mm (without 810 drip tip and 510 pin)
Drip Tip: 810 Resin Drip Tip
Coil Configuration: Dual Mesh in Parallel or Series
Included Mesh Resistance: 0.30Ω / 0.60Ω (series build) / 0.15Ω (parallel build)
Wattage Range: 60W-90W
Recommended Wattage: 75W-85W
Juice Well Capacity: 3mL
Juice Feeding Method: Drip / Squonk
Airflow Type: Adjustable Side Airflow
Body Material: Stainless Steel
Insulator Material: German PEEK
Threading: 510 Thread
Parallel or Series in the Same Deck:
Imagine getting four times the resistance rating of X ohms.
Take a single coil with a resistance rating of X ohms.
The final resistance rating of dual coils in a parallel build will be X/2 ohm.
The final resistance rating of dual coils in a series build will be X*2 ohm.
The Profile PS Dual Mesh RDA effectively lets you choose between parallel or series builds with dual mesh coils within one deck by a simple switch of the pin.
The Profile PS Dual Mesh RDA comes with a default parallel deck. Converting it into a series deck requires a few simple steps:
Remove the contact pins.
Find the converter pin.
Install it into the deck to replace the contact pins.
And you're good to go. The best part about the Profile PS Dual Mesh RDA is that all the original Profile RDA meshes can work with this new RDA. A new mesh design specifically for the Profile PS is also part of the family, allowing you to use it for the Wotofo Profile PS Dual Mesh RDA.
Wotofo Mesh (NEW) - Versatile for Series or Parallel Builds (included in package)
Material: A1
Resistance: ≈0.30Ω
Series Dual Build: ≈0.60Ω
Parallel Dual Build: ≈0.15Ω
Power Range: 30W-40W
SQUONKABILITY - Squonking is becoming increasingly popular with vaping enthusiasts and the Wotofo Profile PS RDA can facilitate that as well. Besides the direct dripping method of juice feeding, the Profile PS also features a 3mL juice well, making it squonkable. These features make this dual mesh RDA one of the best squonk RDAs.
AMAZING AIRFLOW - The flexible honeycomb airflow design with the Profile PS Dual Mesh RDA ensures smooth air inflows that straighten out to give you an even hit with greater efficiency.
EASY TO BUILD - The Profile PS boasts a larger deck space in addition to the wonderful features already available on the original Profile deck, like the clamp-securing system and the spring-loaded ceramic support for effective mesh-and-cotton contact, making it very easy to build on and customize your vaping experience to suit your needs. The Profile PS RDA gives you an overall more flavorful experience with greater heat and vapor production.
Box Contents:
1 x Profile PS Dual Mesh RDA (parallel deck solid pin pre-installed)
2 x Mesh 0.3Ω
2 x Thick Cotton Strip 6mm
1 x Bending Tool
1 x Cross Head Screwdriver
1 x Allen Key
1 x Accessory Bag
1 x User Manual