Wotofo MDura Mini Kit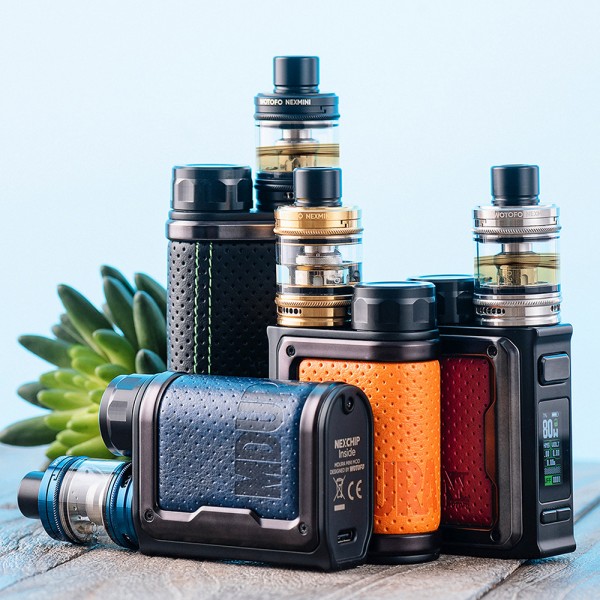 Wotofo MDura Mini Kit
L E S S W E I G H T , M O R E P O W E R .
The MDura Mini Kit from Wotofo is an elegant vaping kit consisting of the MDura Mini Mod and the nexMini SubTank which together, look deceptively compact but packs a powerful punch. This 80W mod and sub-ohm tank combination is much sleeker than its bigger counterpart, the MDura Kit, but comes with plenty of powerful features that make it a device suitable for beginner and veteran vape enthusiasts alike.
Surprisingly Flavorful Hits Each Time...
A side-by-side comparison with the MDura Kit makes the MDura Mini Kit seem much slimmer, but do not let its smaller size fool you. The MDura Mini Mod packs 80W of power that combines with the nexMini SubTank to deliver surprisingly flavorful hits each time.
The rechargeable 18650 battery will last you between 300 and 500 cycles to ensure you have a long-lasting setup. It features a Type-C fast charger that ensures that you have your vape ready to go in very little time after plugging it in to charge after draining the battery.
Sleek & Elegant Vape Mod...
The sleek and elegant vape mod boasts a solid construction, similar to the MDura Pro, with a high-class leather wrap that is lightweight and gives you a softer grip.
The intelligent nexCHIP Technology enables the MDura Mini to deliver vape clouds in just 0.001 seconds to ensure a smooth and uninterrupted vaping experience.
Despite its compact size and sleek profile, the MDura Mini boasts all the benefits of a standard vape, including an intuitive interface that makes it easy to adjust the settings based on your preference.
MDura Mini Mod Specifications:
Size: 64mm x 26mm x 50.5mm
Display: 0.96" TFT screen
Battery: Single 18650 (not included)
Power Range: 5W to 80W
Charging Port: Type-C
Charging Current: DC 5V/2A
The Featured nexMini SubTank...
The nexMini SubTank allows for a tailor-made experience through the adjustable airflow and several types of nexMini SubTank Coils, designed to give you a specialized experience with each hit so you can enjoy the benefits of this amazing sub-ohm tank.
It has a child-lock on the fill port, preventing any accidents from occurring. With a 3.5mL capacity with the straight glass and a 4.5mL capacity with the bubble glass, the nexMini has an 810 Delrin drip tip with adjustable bottom airflow to help customize your vaping experience. Filling the tank is still as convenient as ever with the top filling method. Simply push open the top cap, press the needle tip on the bottle into the port, refill with juice, and vape.
nexMini SubTank Specifications:
Size: Ø25 x 32.85mm (without drip tip & 510 pin)
Tank Capacity: 3.5mL (straight PCTG tube) / 4.5mL (bubble glass tube)
Drip Tip: 810 Delrin
Filling Method: Top Filling
Airflow Type: Adjustable Bottom Airflow
Threading: 510
The nexMini SubTank Coil Introduction...
The nexMini SubTank Coil Family is designed to give you a specialized experience with each hit.
NexMini comes pre-installed with the #D43 Clapton Mesh Coil, ideal for getting a rich and strong experience of the flavor with each hit.
Also included is the #D41 A1 nexMESH Coil, for a velvety smooth flavor experience.
#D43 Clapton Mesh Coil
Rich, Strong Flavor
Resistance: 0.20Ω
Best Power: 45W-55W
#D41 A1 nexMESH Coil
Velvety Smooth Flavor
Resistance: 0.20Ω
Best Power: 37W-43W
Kit Includes...
1 x MDura Mini 80W Mod
1 x nexMini SubTank
1 x #D43 Clapton Mesh Coil (pre-installed)
1 x #D41 A1 nexMESH Coil
1 x Bubble Glass Tube
1 x Type-C Charging Cable
1 x Accessory Bag
1 x User Manual