Wotofo Gear V2 RTA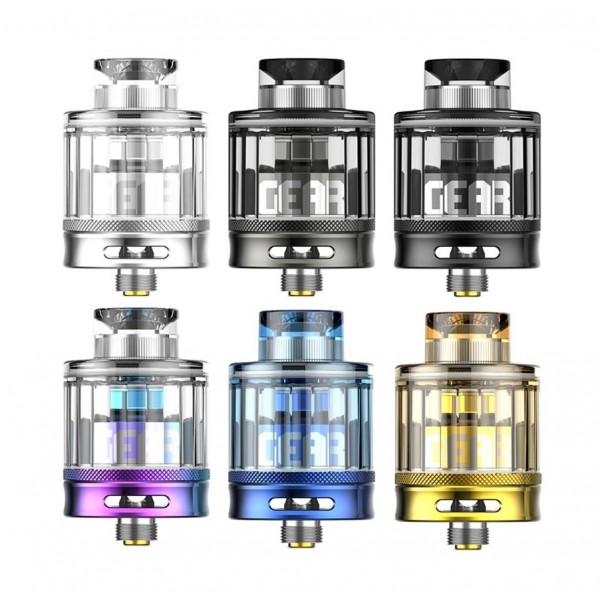 Wotofo Gear V2 RTA
L E S S I S M O R E .
The Gear V2 RTA from Wotofo is far more than a compact single coil RTA. It is an upgrade of our Gear RTA that retains the incredibly user-friendly build deck, post-less design, and a simpler design that significantly improves its performance far better than you might expect from such a compact RTA. The Wotofo Gear V2 RTA is in essence, a single-coil and compact RTA. However the V2 is an upgrade that takes the original simplicity to another level while boosting the performance of the device by a significant margin.
RTA Specifications:
Diameter: 24mm
Height: 38.5mm (with drip tip & 510 pin)
E-Liquid Capacity: 3.5mL
Filling Method: Top Fill
Main Materials: SS + PCTG
Coil Type: Single Wire Coil
Airflow Type: Fixed Side Airflow
Insulator Material: German PEEK
Threading: 510 thread
Coil Specifications:
Name: Framed Staple Clapton
Material: Ni80
Resistance: 0.33Ω
Inner Core: 28G+38Gx9+28G
Outer Wire: 36G
Internal Diameter: 3mm
Power Range: 5W-60W
Best At: 40W-55W
RAPID FLAVOR DELIVERY - The Gear V2 RTA boasts an ultra-short passage that maximizes its efficiency and speed for rapid flavor delivery. The drip tip has been restructured to make it a whole top cap, reducing the unnecessary time between the air entering the device and mixing it with the vapor for greater efficiency.
FLAVOR HAS JUST GOTTEN MORE INTENSE - Our R&D and manufacturing team wanted to make a massive improvement on the original Gear RTA to improve its performance and flavor intensity, so it now boasts a more optimized vaporization chamber. The new vaporization chamber is compressed so that it can produce a more intense flavor, bringing out every note of flavor from your favorite e-juice, and giving you the most flavorful experience you can expect.
QUICK & EASY DECK BUILDING - With the Gear V2 RTA, you get the pan head screws kept right on the deck for a quicker deck-building process. There are two little airflow walls added to the deck for a smoother vapor delivery despite more intense vapor production.
FIXED AIRFLOW - The Gear V2 RTA features a fixed airflow design. Some vaping enthusiasts might find it odd that it doesn't allow them to adjust the airflow to their preference. However, the Gear V2 RTA's design is optimized to strike the perfect balance between airflow and vapor intensity. Our R&D team calculates the optimal airflow. The fixed airflow design eliminates the condensation seeping down through the gaps because there is no control ring to allow leaks.
Box Contents:
1 x Gear V2 RTA
2 x Framed Staple Clapton 0.33Ω Coils
2 x Thick 3mm Cotton Strips
1 x Screwdriver
1 x Accessory Bag
1 x User Manual