Wismec SINUOUS V200 Kit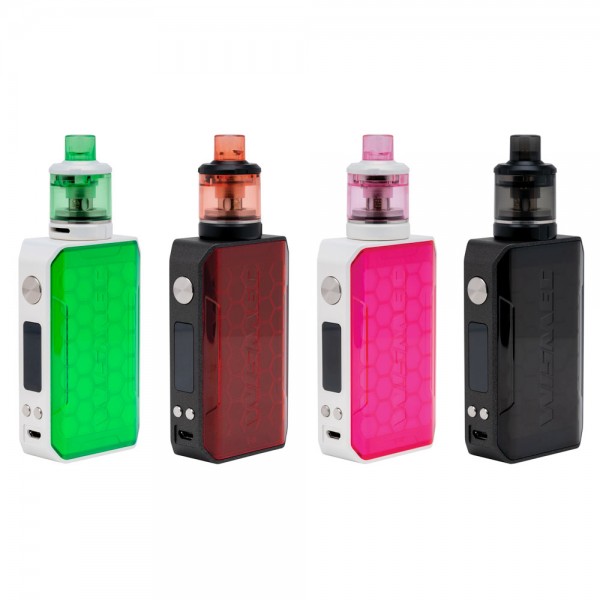 Wismec SINUOUS V200 Kit
The SINUOUS V200 kit, a new upgraded version of SINUOUS series, from Wismec, consists of the fashionable SINUOUS V200 and cost-effective Amor NSE tank, which are the best combo either from the appearance or the performance. Differing from the conventional e-cigs, the SINUOUS V200 impresses us with its transparent body and centered 510 connector. Powered by dual replaceable 18650 cells, SINUOUS V200 is able to output 200 watts and has a 2A quick charge capability. Amor NSE Tank, a practical atty designed for both MTL and DL vaping, will definitely offer you incomparable vaping experience with intense flavor and huge clouds. Holding SINUOUS V200 in the hand, you may own the whole world.
SINUOUS V200 Specifications:
Size: 88.8mm x 53.2mm x 25mm
Weight: 76.5g
Thread Type: 510 spring loaded connector
Cell Type: two high-rate 18650 cells
(discharge current should be above 25A)
Output Mode: VW / TC-Ni / TC-Ti / TC-SS / TCR Modes
Output Wattage: 1-200W
Resistance Range: 0.05-1.5 ohm for TC Modes
0.05-3.5 ohm for VW Mode
Temperature Range: 100-315 C / 200-600 F (TC Modes)
Maximum Charging Current: 2A
Output Voltage Range: 0.5-8V
EXQUISITE, STYLISH, AND ECONOMICAL - The SINUOUS V200 is made of transparent PC material, which is fashionable in appearance and comfortable to hold. The overall setup is super exquisite yet very much cost-effective, offering you maximum visual enjoyment.
DUAL 18650 CELL WITH 200W MAX OUTPUT - Powered by dual replaceable 18650 cells, the max output of the SINUOUS V200 can reach up to 200W, providing you with large vapor clouds.
CENTERED 510 SPRING LOADED CONNECTOR - The innovative design of centered 510 connector is a bright spot to the SINUOUS V200. It can handle various tanks up to 26mm diameter without overhang.
Amor NSE Specifications:
Diameter: 26mm
Height: 46mm
Weight: 38.7g
E-Liquid Capacity: 3mL
AMOR NSE, AN ECONOMICAL ATTY FOR BOTH MTL AND DL VAPING - Featuring the PETG material, the Amor NSE is cost-effective and practical. The simplicity and versatility of Amor NSE make it compatible with both MTL and DL vaping.
NEW WS-M (MESH) COIL FOR FLAVOR TASTE AND HUGE CLOUDS - The Amor NSE comes with brand new WS-M 0.27 ohm coil, presenting you with intense flavor and huge clouds.
Rated: 30-60W / Best: 35-45W
RETRACTABLE TOP-FILLING SOLUTION & REFINED AIRFLOW CONTROL SYSTEM - Simply slide the top cap, you can finish the refilling quickly and easily. You will also get a great vaping experience through the sophisticated and accurate airflow control system.
MULTIPLE PROTECTIONS APPLIED FOR SAFER VAPING - Powered by Avatar chip, multiple protection systems are applied, realizing the overall protection of the device, which make it much securer and more reliable.
-Over-charge, over-discharge, over 10 seconds, short-circuit, and over-current protections.
ATTRACTIVE COLORS, ENRICH YOUR VAPING LIFE - Available in multiple colors, the SINUOUS V200 makes your daily vaping much more colorful and enjoyable.
UPGRADEABLE FIRMWARE - SINUOUS V200 comes with upgradeable firmware. The upgrades will forever keep your device up to date and stand out from other ecigs.
CHARGING - It's better to take the cells out and charge them via an external charger. You can also charge the device by connecting it with a computer or a wall adapter via USB Cable.
Kit Includes:
1 x SINUOUS V200 Mod
1 x Amor NSE Tank
1 x WS-M 0.27 Ohm Coil
1 x WS04 MTL 1.3 Ohm Coi
1 x QC USB Cable
2 x User Manuals
2 x Warning Cards
Spare Parts