Wismec Preva DNA Pod System Kit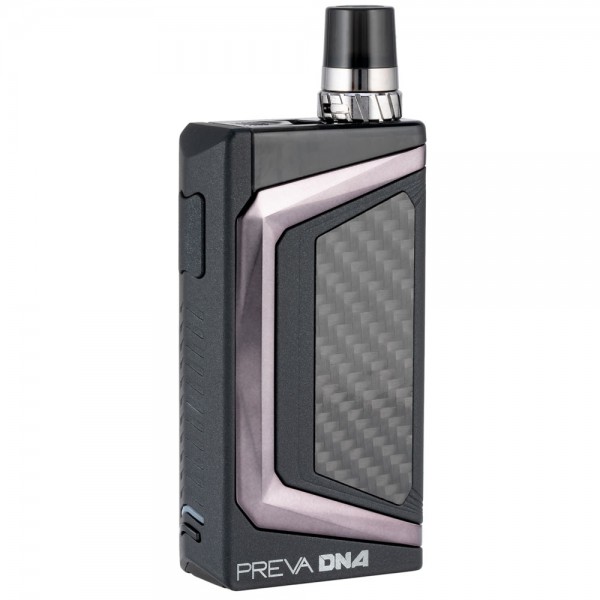 Wismec Preva DNA Pod System Kit
PREVA DNA is a new high-end pod device introduced by WISMEC. The unique diagonal design with carbon fiber panel makes it especially eye-catching. It features not only a stylish appearance and compact size, but also a powerful Evolv DNA GO chip, which operating like a tiger with added wings. What's more, the PREVA DNA also comes with a 0.25ohm cartridge and 0.5ohm cartridge, which will satisfy both massive cloud lovers and flavor pursuers.
Evolve DNA GO Chip - Powered by the Evolv DNA GO, a high-tech chip with a flawless memory management makes each one of your puff perfect. The PREVA DNA offers an unique function that allow you to customize it parameters and experience a large variety of flavors and airflows.
Stylish and Elegant Design - Crafted with carbon fiber panel of high quality and a durable and chic metal frame, the PREVA DNA looks stunning even in your hand. It will become a luxury product that you will be proud to show off.
Vapor or flavor? BOTH! - Two different cartridges are available to satisfy DL or MTL lovers. Cartridges with 2ml version and 3ml version are available for your daily vaping demand.
Large Battery Capacity - With a large built-in 1050mAh battery, you can vape all day long without caring about your battery level. Four different LED lights indicate battery levels. Just press twice, you will get a clear battery information.

Product Specifications:
Dimensions: 96mm x 43mm x 18.6mm
Battery: 1050mAh Battery
Proprietary Evolv DNA GO Board
Maximum Wattage Output: 20W
Three Power Outputs: Low (Yellow), Medium (Green), High (Blue)

Pod Capacity: 3mL
0.25Ω PREVA DL Pod - Vapor-Focused
0.5Ω PREVA MTL Pod - Flavor-Focused
Protections: Timeout Protection, Low Voltage Protection, Short Circuit Protection, Low / High Resistance Warning
In the Package:
1 x PREVA DNA Device
1 x PREVA SS316 Dual 0.25Ω Cartridge
1 x PREVA KTR 0.5Ω Cartridge
1 x USB Cable
1 x User Manual
1 x Warranty Card
1 x Warning Card