VSTICKING VKsma Kit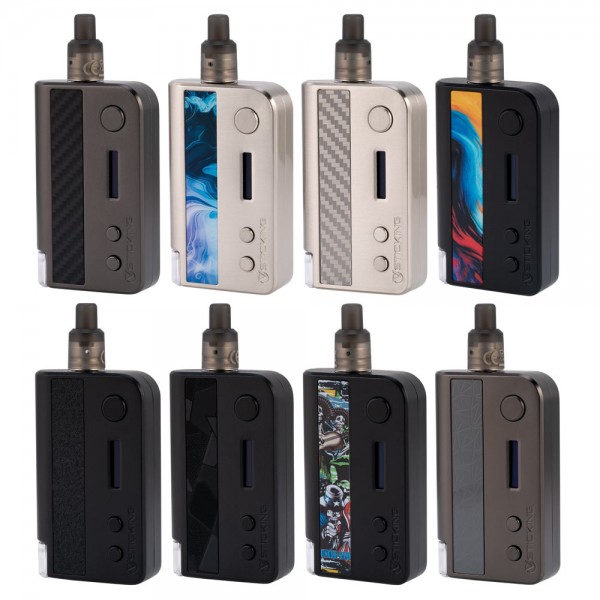 VSTICKING VKsma Kit
The VSTICKING VKsma looks and operates quite similarly to Pioneer4U's IPV 3 Mini Kit. The VKsma kit features a Yihi ESS driver for automatic squonking and e-liquid control, an auto dripping atomizer, a full temperature control suite, DIY mode capability, a bottom feeding system, full flavor with every puff, a 3mL removable tank and a 1400mAh integrated battery with charging system. Depending on your choice, you can get the version with only the prebuilt ADA atomizer or the one that includes both the ADA and the rebuildable RADA.
TC control & Anti-dry burning --- Direct vaping without moisture coil.

TC control & Anti-dry burning --- Direct vaping without moisture coil.
YiHi ESS Driver New Technology --- Powered by YiHi SX638H chipset
Precise e-liquid control, automates the e-liquid to the ADA & return of excess to the tank, no leaking.
Supports ADA (auto dripping atomizer) and RADA atomizer.
Two modes: DIY Mode and Auto Mode --- under DIY Mode, you can use both ADA or RADA tank.
Fantastic pure flavor, 100% no leakage.
Specifications:
Dimensions: 47.5mm x 79mm x 18.6mm
Battery Capacity: 1400mAh
Material: Zinc Alloy
Display: 0.69" OLED
Adjustable Wattages:
Auto Modes:
0.3Ω Ni211 P1 (10-15W) / P2 (20-25W)
1.0Ω SS316 P1 (5-6W) / P2 (10-12W)
DIY Mode: 10-35W
Temperature Control Range: 180-260°C (356-500°F)
Output Voltage: 3.2-4.2V
Charging Voltage and Current: Standard DC 5V/1A
E-Liquid Container Capacity: 3mL
Instructions:
Long press fire button to turn on the device.
Press both up and down buttons steadily to enter into DIY mode.
Click fire button 5 times continuously to enter into the menu. Set the TCR value (refer to user manual for coil reference).
Kit Contents:
1 x VKsma Device
1 x SMA ADA Tank (0.3Ω Ni211)
1 x E-Liquid Tank 3mL
1 x Silicone E-Liquid Tank Cap
1 x USB Cable
1 x Instruction Manual
1 x Warranty Card