VooPoo VINCI 3 Pod Kit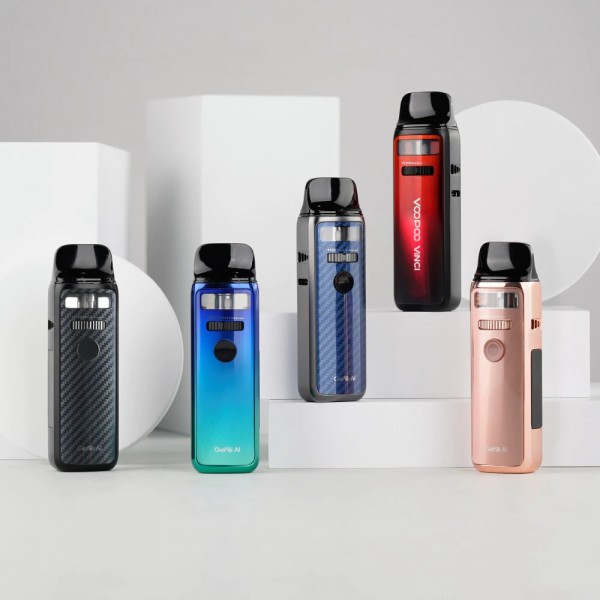 VooPoo VINCI 3 Pod Kit
P U F F I N G M A S T E R .
The VINCI 3 from VooPoo is the first puffing master device, equipped with a large capacity 1800mAh built-in battery in a portable body. With a 5W to 50W adjustable power range, the featured Mobius Airflow System fully satisfies the pure tight-to-loose vaping experience. No choking, easy to use, more powerful, one-step puffing.

TIGHT & LOOSE PUFFS - The new Mobius airflow system and 5W to 50W adjustable power of the VINCI 3 satisfies you from pure tight puffs to no-choking, strong DTL.
MOBIUS AIRFLOW SYSTEM - The new airflow system provides wide-area airflow adjustment, comparable to a professional atomizer. Increasing the airflow adjustment range by about 200%, it fully covers the puffing experience from DL to MTL. One ring fissions to create unlimited flavors.
ADJUSTABLE POWER RANGE FOR A SEAMLESS EXPERIENCE - Loose or tight? Big or small? Every no-choking puff is ready for you to experience.
5W-25W --- Tight puffing experience, similar to a real cigarette.
26W-40W --- Smaller smoother control brings you more sufficient vapor.
41W-50W --- Get a new way to satisfy you with an immersive deep to lung cloud.
SMALL BUT DYNAMIC - The VINCI 3 adopts a pod system size with a large capacity built-in 1800mAh battery to last you for up to two days.
ULTRA-PRECISION, AUTO-IGNITION - Ultra-precision auto-ignition covers the tobacco smoking experience and the new throat-hitting stronger puffing experience. At the same time; two ways to puff with smart draw or the fire button. Simple operation to connect your multi-puffing trip.
A DIVERSIFIED PUFFING TRIP - Multiple experiences, powerful flavor, simple operation, durable battery life... want them all? VINCI 3 is here to fulfill all your wishes!
Specifications:
Dimensions: 30.5mm x 21.6mm x 101.3mm
Materials: Zinc Alloy + Optical Coating Decorative Sheet / PCTG
Output Power: 5W to 50W adjustable
Output Voltage: 3.2V-4.2V
Battery Capacity: 1800mAh built-in

Resistance Range: 0.15Ω-3.0Ω
Pod Capacity: 4mL
Recommended E-Liquid: Nicotine ≤ 50mg VG > 75mg
Compatible Coils: All PnP Coils
INTRODUCING THE POD - The VINCI 3 features an all new VINCI 3 Pod that has a one-step top filling design. The simple design with a cross filling hole, balances air. Only one step involved with refilling and no leakage! With a large 4mL e-liquid capacity, one refill can satisfy you all day long.
ONE STEP POD INSTALLATION - With the magnetic cartridge, you only need one step to achieve a stable installation. No falling no matter how hard it gets shaken around.
INTEGRATED VISIBLE DESIGN - The device and the visible cartridge are no longer separated. Puffing at a glance.
ONE PUFF TO ENTER A WHOLE NEW WORLD - Utilizing the PnP Coils reliably brings you from tight to deep inhalation.
SIMPLE INTERACTION AUXILIARY CONNECTION - The VINCI 3 combines a multi-function fire button and a 0.69" interactive screen design. Zero learning cost for an authentic taste. All you need is one button.
POWERFUL GENE. AI CHIP FOR SAFE CONNECTION - Equipped with VooPoo's new Gene.AI Chip, the VINCI 3 provides seven safety protections that include overtime protection, short-circuit protection, overcharge protection, output over-current protection, over discharge protection, over-temperature protection, and max power protection. It is smart enough to protect your daily using time and safe to immediately put in your pocket.
Box Contents:
1 x VINCI 3 Pod Device
1 x VINCI 3 Empty 4mL Pod
1 x PnP-TW30 0.3Ω Coil
1 x PnP-DW60 0.6Ω Coil
1 x Type-C Cable
1 x User Manual