VooPoo V.THRU Pro Kit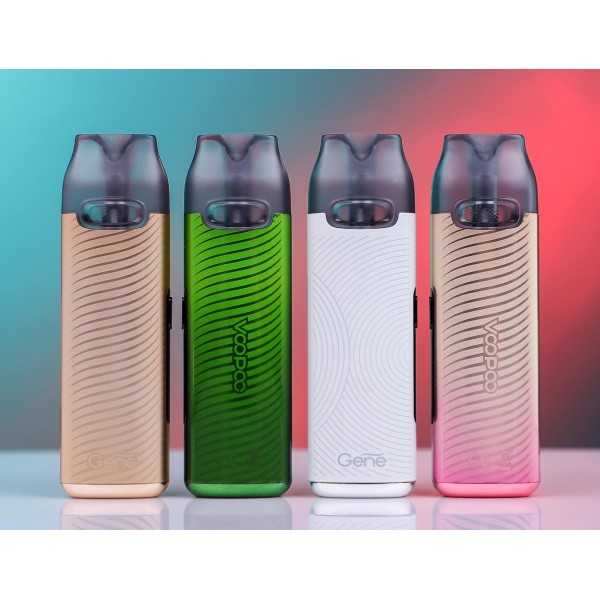 VooPoo V.THRU Pro Kit
V A P I N G S T A R T S W I T H T H E V . T H R U P R O .
V.THRU Pro's mission is to be the next generation of flavorful, easy-to-use, low-cost starter units. The medical-grade refillable pod with 0.7Ω and 1.2Ω pod options allow you to get the most flavor out of your favorite e-liquids. Want to start vaping? Start with V.THRU Pro!
Adjustable Power - 5W to 25W
3mL E-Liquid Capacity
0.7Ω and 1.2Ω Dual Pod
Built-in 900mAh Battery
0.69' OLED Screen
Type-C Fast Charging
THRU EVERY TIME AND EVERYWHERE - The compact V.THRU Pro weighs only 44g, no bigger than an average human finger, so you can enjoy vaping anytime, anywhere.
A DELIGHT OF COLOR - Create the image of nature with design. The colors radiate in every light and shadow, sunset, forest, neon, etc., unveils its beauty and chicness in every perspective.
SMALL SIZE, LARGE POWER - A 900mAh large capacity battery is built into the device and with Type-C fast charging capability, you can potentially enjoy two full days of vaping without having to recharge!

SO EASY TO USE - The button-less air induction starts, pick up and inhale. The smooth and mellow flavor will just come naturally.
Specifications:
Size: 95.5mm x 28.5mm x 14.9mm
Material: Aluminum Alloy + PCTG
Battery Capacity: 900mAh
Output Power: 5W-25W
E-Liquid Capacity: 3mL
Resistance: 1.2Ω & 0.7Ω
DOUBLE THE FUN WITH TWO PODS - There are two options for replacement cartridges for the V.THRU Pro; a 0.7Ω Mesh Coil that provides rich flavor layers and clouds and 3 times the larger heating area and a 1.2Ω GENE Helix Coil that has a spiral heating design with high nicotine delivery and rich and long-lasting flavor.
360° FULLY-FIT DESIGN - 128 engineering tests, bringing a full 360° range of fitting lip comfort. You'll feel your flavor, not a pod.
INSERT TIGHT, PULL OUT EASILY - Magnetic suction and buckle double reinforcement, with the super-easy groove clasp design, makes every insertion and removal of pods easier.
NO DROP OF CONDENSATION WILL ESCAPE - The V.THRU Pro has an independent and one-way condensation space and is 75% more leak-proof than other pods.
SEEING EVERY BREATH - the 0.69' OLED screen shows parameters such as power, power in real-time, puff count, and the duration of each puff. It's a perfect substitute for cigarettes.
INTELLIGENT CHILD-PROOF MODE - We are trying to protect children in every detail. It is highly recommended that you use LOCK mode, which can be very effective to prevent children from accidentally starting if left unattended.
GENE.CHIP ESCORTS THE FLAVOR - The GENE.Chip can provide a constant output voltage to ensure consistent atomization of nicotine salt, giving you a perfect flavor experience.
SAFETY PROTECTIONS - There are 6 included safety protections; overtime, short-circuit, overcharge, output over-current, over-discharge, and reverse-airflow protection.
Kit Contents:
1 x V.THRU Pro Device
1 x V.THRU Pro 0.7Ω Mesh Coil Pod
1 x V.THRU Pro 1.2Ω Helix Coil Pod
1 x Type-C Cable
1 x User Manual