VooPoo V.THRU Pro Eternity Edition Kit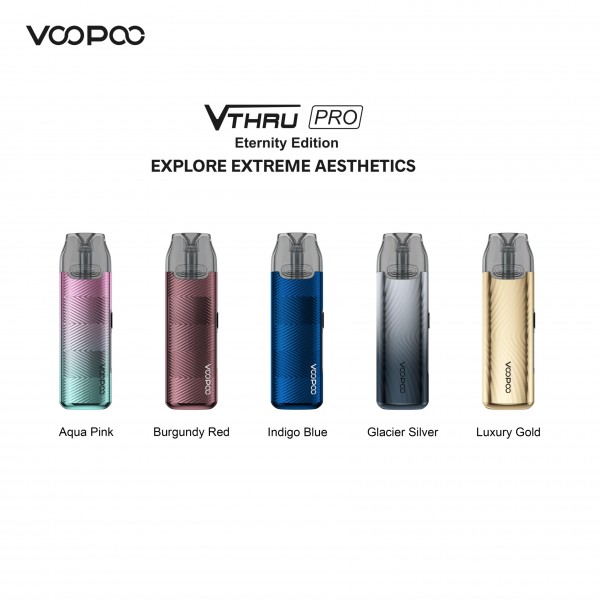 VooPoo V.THRU Pro Eternity Edition Kit
E X P L O R E E X T R E M E A E S T H E T I C S .
The same, amazing V.THRU Pro you've come to love is now available in new colors and features two of the upgraded VMATE Cartridge V2 pods. V.THRU Pro's mission is to be the next generation of flavorful, easy-to-use, low-cost starter units. The upgraded ITO technology brings you an original sweet flavor. The silver ion mouthpiece offers you a reassured vaping experience. The unique dual-hole structure isolates the condensate and proofs no leakage. Want to start vaping? Start with V.THRU Pro!
Adjustable Power - 5W to 25W
3mL E-Liquid Capacity
Upgraded VMATE Cartridge V2
Built-in 900mAh Battery
0.69' OLED Screen
Type-C Fast Charging
THRU EVERY TIME AND EVERYWHERE - The compact V.THRU Pro weighs only 44g, no bigger than an average human finger, so you can enjoy vaping anytime, anywhere.
A SUBVERSION OF VISION & TASTE - Both vibrant color and rhythmic lines convey the exquisite aesthetics of V.THRU Pro. The VMATE Cartridge V2 Cartridge brings you a purer and fresher flavor.
A DELIGHT OF COLOR - Create the image of nature with design. The colors radiate in every light and shadow, sunset, forest, neon, etc., unveils its beauty and chicness in every perspective.
Specifications:
Size: 95.5mm x 28.5mm x 14.9mm
Material: Aluminum Alloy + PCTG
Battery Capacity: 900mAh
Output Power: 5W-25W
E-Liquid Capacity: 3mL
Resistance: 1.2Ω & 0.7Ω
SO EASY TO USE - The button-less air induction starts, pick up and inhale. The smooth and mellow flavor will just come naturally.
SMALL SIZE, LARGE POWER - A 900mAh large capacity battery is built into the device and with Type-C fast charging capability, you can potentially enjoy two full days of vaping without having to recharge!
UPGRADED CARTRIDGES --- PURER FLAVORS - Compared with the V.THRU Pro Replacement Pod, the VMATE Cartridge V2 has been fully upgraded from internal structure to external design.
FREE EXPERIENCE, INFINITE PURITY - The VMATE Cartridge V2 is fully compatible with the VMATE & V.THRU Series devices. You can choose freely and enjoy more vaping experiences.
SILVER ION MOUTHPIECE KEEPS BACTERIA AWAY - With a 99% antibacterial rate, the silver ion mouthpiece offers you a reassured vaping experience.
SKID-PROOF LIGHT-PROOF CARTRIDGE - The skid-proof design makes each inserting tight and pulling out with ease. Meanwhile, it realizes the Fresnel lens function, which reduces the probability of light deterioration of e-liquid by reflecting lights.
SEEING EVERY BREATH - the 0.69' OLED screen shows parameters such as power, power in real-time, puff count, and the duration of each puff. It's a perfect substitute for cigarettes.
INTELLIGENT CHILD-PROOF MODE - We are trying to protect children in every detail. It is highly recommended that you use LOCK mode, which can be very effective to prevent children from accidentally starting if left unattended.
GENE.CHIP ESCORTS THE FLAVOR - The GENE.Chip can provide a constant output voltage to ensure consistent atomization of nicotine salt, giving you a perfect flavor experience.
SAFETY PROTECTIONS - There are 6 included safety protections; overtime, short-circuit, overcharge, output over-current, over-discharge, and reverse-airflow protection.
Kit Contents:
1 x V.THRU Pro Device
1 x VMATE Cartridge V2 (0.7Ω/3mL)
1 x VMATE Cartridge V2 (1.2Ω/3mL)

1 x Type-C Cable
1 x User Manual