VooPoo UFORCE-L Tank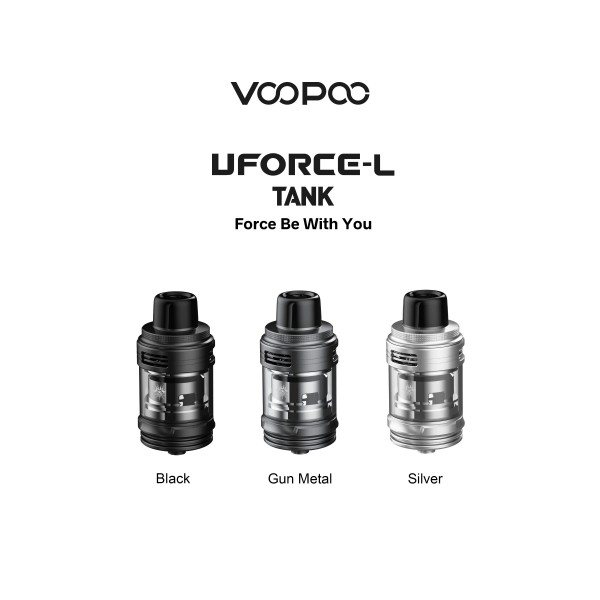 VooPoo UFORCE-L Tank
F O R C E B E W I T H Y O U .
The UFORCE-L Tank is the FIRST PnP atomizer from VooPoo with three top air inlets. It balances the airflow directions and increases the airflow passthrough, making the airflow smoother and bringing users a rich and delicate taste. The top air inlets also ensure the pressure inside and outside the tank balanced so that the poorly atomized e-liquid and condensate could be firmly stored even when the device shakes heavily. Powered by Dual In One Tech, two upgraded PnP Coils boosts a powerful cloud and multi-layered flavor.
Specifications:
Size: 25.5mm x 58mm
Capacity: 4mL / 5.5mL
Coils: PnP-TW20 (0.2Ω, 40W-55W) / PnP-TW15 (0.15Ω, 55W-70W)
Filling Method: Top Filling
Material: Stainless Steel + Pyrex
NO MORE LEAKING, MORE SMOOTH FLAVOR - The innovative 3-hole air inlet on the UFORCE-L Tank delivers a balanced and sufficient airflow with each puff. Meanwhile, the top air inlet avoids condensate and oil leakage effectively.
DUAL IN ONE TECH - The Dual in One Tech of the PnP Coil provides richer taste, denser clouds, and a longer lifespan with a 25% increase in puffs.
HEAT SINK DESIGN - The heat sink design of the tank decelerates the heat accumulation of vapor in the mouthpiece effectively. The vapor's temperature is just right and comfortable!
BIG THRILLS, SMALL BILLS - The featured UFORCE-L Tank is compatible with all PnP coils. By pulling and pushing easily, you can enjoy a variety of fun and affordable vaping experiences.
Box Contents:
1 x UFORCE-L Tank 4mL
1 x PnP-TW20 0.2Ω Coil
1 x PnP-TW15 0.15Ω Coil
1 x Spare Glass 5.5mL
1 x Silicone Rubber Pack
1 x User Manual