VooPoo Pericles RDA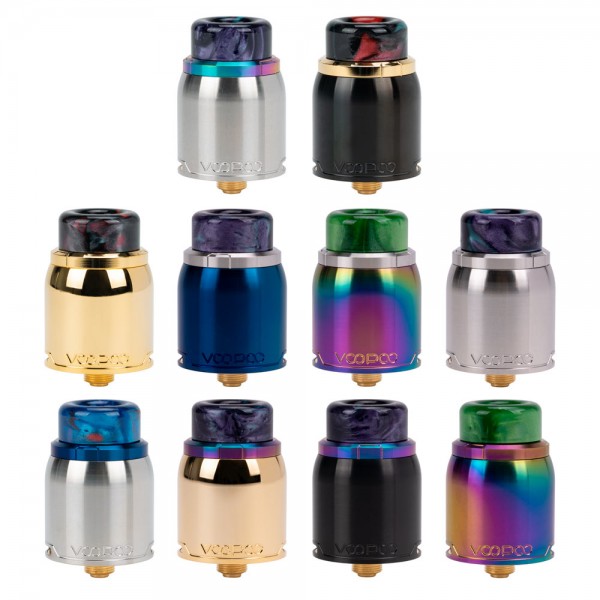 VooPoo Pericles RDA
F U T U R E A G E S W I L L W O N D E R .
Pericles RDA by VOOPOO is made for flavor addicts and for beginners, this RDA will undoubtedly give you the best building experience through its user-friendly structural design. Pericles accommodates most types of wires, for ts big wire slots. To build up the dual coils, all you need to do is easily push in the coil heads and fix them in place.
Specifications:
Type: RDA
Material: Stainless Steel
Size: 24.2mm x 34.4mm
Weight: 43.4g
Connection Threading: 510
Airflow Adjustable: Bottom
Fill Liquid: Top / Bottom
DEEP JUICE WELL - The deep juice well allows vapors to have more fun in vaping.
SMOOTH BOTTOM-SIDE AIRFLOWS - Air goes through the coils thoroughly in the quadri bottom-side airflows.
ANTI-SPRAY CONSTRUCTION AGAINST LIQUIDS AND CONDENSATION - The bridge in the center smartly divides liquids into both sides instead of spraying. There is a screen on the top of the RDA cap that prevents condensation for getting out to the drip tip or even spraying in your mouth.
Packing List:
1 x Pericles RDA
3 x Sealing Rings
4 x Slotted Screw
1 x Positive Electrode Screw
1 x 510 Resin Drip Tips Adapter Rung
1 x Slotted Screwdriver
1 x Hexagon Wrench
1 x Organic Cotton
2 x Coils
1 x User Manuals