VooPoo Drag Q Kit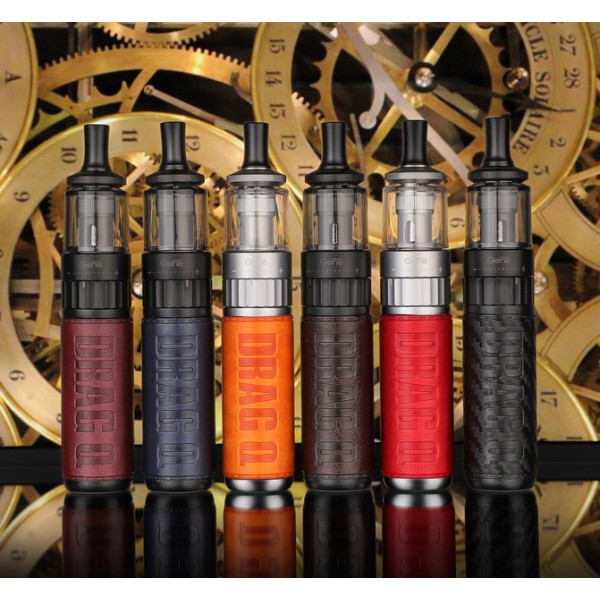 VooPoo Drag Q Kit
T I C K I N G O F I N T E L L I G E N C E .
The Drag Q Kit from VooPoo expands its MTL vaping platform to include RDL vaping as an option with the new featured coil. Operating at a max 25W output, the Drag Q is powered by a 1250mAh internal battery. Compatible with the ITO Series Coils, the new ITO-X Pod accommodates 3.5mL of e-liquid that is refillable via a top filling system, meeting the demands of MTL & RDL vape, which tends to consume flavorful vapor. It's friendly to your pocket and features a unique crown wheel, knurled top cap, both button and draw-activated mechanism. Constructed from zinc alloy and equipped with GENE chip, it results in durability and performance.
FEEL THE AIR POWER ADJUSTMENT - Inspired by the classic manual winding watches, Drag Q adopts the synchronous adjustment of airflow and power with the feedback of gentle ticking. The Drag Q adjusts the airflow and the best matching output power accurately, bringing you the best taste instantly.
HIDDEN LUNE-SHAPE AIR INLET ENSURES A SMOOTH AIRFLOW - Drag Q is designed with the lune-shaped air inlet hidden at the top for effectively avoiding any blocking when gripping. Further, it avoids overheated mouthpiece and e-liquid popping caused by lacking of airflow.
Drag Q Mod Specifications:
Size: 92.5mm x 24mm x 14.14mm
Material: Leather, Zinc Alloy, Silicone
Output Power: 8W-25W
Output Voltage: 3.2V-4.2V
Battery Capacity: 1250mAh
Resistance: 0.3Ω-3Ω
ITO TECHNIQUE IS INNOVATIVE, TASTY, & OPTIMAL - The featured ITO-X Pod, equipped with VooPoo original ITO atomization technique, has been upgraded in appearance and materials. Four layers of silicone rings form an effective leakproof structure design on the ITO-X Pod. Each ITO Coil is estimated for 10 times of e-liquid filling so you can enjoy different MTL vaping experiences fast and affordably.
UPGRADED POD CAPACITY - The enlarged 3.5mL capacity pod supports a longer vaping experience with less frequent filling. The stainless steel base of the ITO-X Pod is designed to be buckled firmly with the device.
ITO-X Pod Specifications:
Capacity: 3.5mL
Material: Stainless Steel + PCTG
Size: 51.45mm x 21.5mm x 21.5mm
Resistance: 0.5Ω (ITO-M0) / 1.2Ω (ITO-M3)
STABLE AIRFLOW - The directional inserted atomizing coil ensures direct airflow inside and a stable taste.
TASTE MULTIPLE FLAVORS - Drag Q is compatible with all ITO Series Coils but features a new option for an RDL vaping experience; ITO-M0 Coil with a 0.5Ω resistance, rated 18W to 25W, for richer vapor and more intense sweetness. From 0.5Ω to 1.2Ω, all four mesh coils from ITO platform now feature a full range of vaping pleasure from RDL to MTL.
ITO-M0 Mesh Coil
RDL

Resistance: 0.5Ω

Range: 18W-25W

Mouthful Cloud
ITO-M3 Mesh Coil
Tight MTL

Resistance: 1.2Ω

Range: 8W-12W

Similar to a cigarette draw
EYE-CATCHING GRADIENT LIGHTS - The sideways gradient light bar shows you the real-time output power and battery capacity. As the color of the gradient light bar changes, it prompts the corresponding power status.
AUTO-LOCK FUNCTION - The device automatically locks after 5 minutes of inactivity to prevent misfiring when carrying. Click 3 times or vape directly to unlock it.
SAFETY FEATURES - The GENE Chip provides six different protections, guaranteeing a safe vaping experience including overtime protection, short-circuit protection, overcharge protection, low battery protection, output overcurrent protection, and overtemperature protection.
Kit Contents:
1 x Drag Q Mod
1 x ITO-X Pod 3.5mL
1 x ITO-M0 0.5Ω Coil
1 x ITO-M3 1.2Ω Coil
1 x ITO Coil Card
1 x Type-C Cable
1 x User Manual