VooPoo DRAG Nano 2 Nebula Edition Pod Kit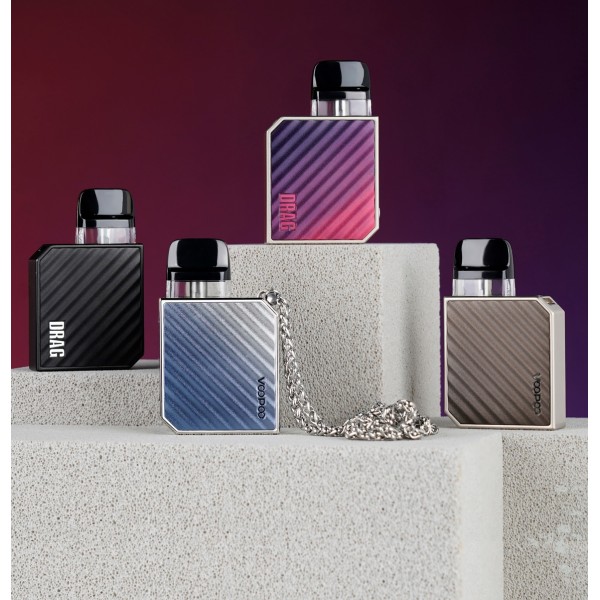 VooPoo DRAG Nano 2 Nebula Edition Pod Kit
A N E W B I G D E A L .
Different from previous DRAG Series from VooPoo, the Drag Nano 2 Nebula Edition Pod Kit has a small but powerful body. If not only to perpetuate the professional performance of the DRAG Series, but also creatively tailor-made the appearance to be smaller and more exquisite. This version of the Drag Nano 2 is equipped with two new Vinci Series V2 Cartridges with two different resistances, 0.8Ω and 1.2Ω. With the feature of simplifying the complexity outside but maintaining the strength inside, Drag Nano 2 Nebula Edition will provide a unique experience for you!
Antibacterial Mouthpiece
DIY Various Flavors
Cosmic Element Design
Compatible with VINCI Pod Cartridges, Drag Nano 2 Pods, & VINICI Series V2 Cartridges
3-Level Adjustable Power Output
Multi-Layer Leak Resistant
FROM CLASSIC TO IMAGINATION - The Drag Nano 2 Nebula Edition keeps the classic outlook design style of the Drag Series, but makes an upgrade to the material of aluminum alloy, allowing it to be more compact and durable. Four new cosmic appearances bringing the beauty of light and shadow.
VAPING AT ANY TIME - Attach the lanyard to your Drag Nano 2 Nebula Edition and wear it around your neck, letting you vape any time, anywhere.
ADJUST AS YOU WISH - The Innovative Infinite Airflow System of the Drag Nano 2 Nebula Edition supports the regulation of any size of airway. You can get the most comfortable experience through this system, no matter which kind of coil is being used or which parameters are being set. Enjoy your flavor freely now!
COMPATIBLE POD FAMILY - VooPoo has expanded their pod compatibility, allowing the Drag Nano 2 Nebula Edition Pod Kit to be compatible with the Vinci Pod Cartridges, Drag Nano 2 Pods, and the new Vinci Series V2 Cartridges.

Specifications:
Dimensions: 71.5mm x 44mm x 14.2mm
Output Power: Max 20W
Output Voltage: 3.2V-4.2V
Battery Capacity: 800mAh internal
Resistance Range: 0.1Ω-3.0Ω
Material: Aluminum Alloy + PCTG

Pod Capacity: 2mL
Pod Resistance: 0.8Ω/1.2Ω
VISIBLE CARTRIDGE - The visible cartridge shows the remaining e-liquid clearly so you never have to worry about burnt hits as you can monitor the levels.
SUFFICIENT AIRFLOW, ULTRA-DENSE CLOUDS - The 4-hole air inlet catches sufficient airflow from each direction in balance and ensures a smooth taste. The mouthful vapor lets you enjoy an ultra-dense and original taste.

MULTI-LAYER LEAKPROOF - The upgraded cartridge is comprised of 4 layers to make it virtually completely leakproof. Cross filling holes balances air pressure at the top of the pod, it has an integrated airway structure all the way through, a double layer silicone ring at the base of the integrated coil, and a condensate isolating room at the base.

HASSLE-FREE TOP FILL - Simply uncover the mouthpiece top to expose the fill holes; you don't even have to remove the pod from the battery.

SILVER ION MOUTHPIECE - With a 99% antibacterial rate, the silver ion mouthpiece offers a reassured vaping experience.
SMART MATCH OR DIY, THE CHOICE IS YOURS - The Drag Nano 2 Nebula Edition can match output power smartly. It also has three adjustable power modes so you can adjust any output power for your needs to find your favorite flavor. The 3-color LED lights shows the output power and battery status, so you won't miss any information when you're vaping. White lights indicate high power, green is mid power, and blue is low power.

NO LAG TO IGNITE - Super sensitive atomizer plus powerful Gene chip makes super fast ignition, which dedicate you with a 'second suction' experience.
SIX SAFETY PROTECTIONS - Safety protections include overcharge protection, output overcurrent protection, short-circuit protection, 8 second overtime protection, over-temperature protection, and low battery protection.
Box Contents:
1 x Drag Nano 2 Nebula Edition Pod Device
1 x Vinci Series V2 0.8Ω Cartridge
1 x Vinci Series V2 1.2Ω Cartridge

1 x Type-C Cable
1 x Lanyard
1 x User Manual