VooPoo Drag H40 Kit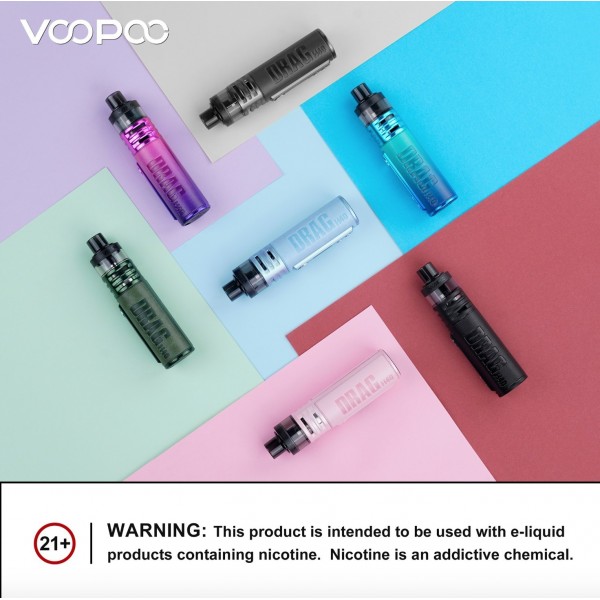 VooPoo Drag H40 Kit
M I G H T B E Y O N D S I Z E .
The Drag H40, VooPoo's most compact pod mod with a maximum power of 40W for advanced users to start their DTL journey, features a new 5mL capacity PnP Pod II and a 1500mAh battery capacity, freeing users' worries over frequent refilling and charging. The DUAL-IN-ONE TECH adopted in the coil significantly boosts the atomizing efficiency. A 0.54-inch OLED display effectively records users' vaping habits. Adjustable in power and airflow, it can provide users with exclusive flavors and a unique DTL vaping experience.
New 5mL Capacity PnP Pod II
DUAL-IN-ONE TECH
Rotate to Adjust Airflow
EXQUISITELY DESIGNED - The Drag H40 utilizes a full 360° leather facing design and is available in exquisite colors.
COMPACT DEVICE, HUGE CAPACITY - Though compact in size, the Drag H40 is huge in its 5mL e-liquid capacity and its 1500mAh battery capacity, reducing refilling and charging frequencies to a large degree.
HIGH ATOMIZING EFFICIENCY FOR A FABULOUS DTL VAPING EXPERIENCE - The DUAL-IN-ONE TECH accelerates the coil's heating and atomizing speed, thus increasing the atomizing efficiency, bringing a fabulous DTL vaping experience.
Specifications:
Dimensions: 27.5mm x 26.1mm x 104.5mm
Materials: Zinc Alloy, Leather + PCTG
Output Power: 5W to 40W
Output Voltage: 3.2V-4.2V
Resistance: 0.3Ω-3Ω
Battery Capacity: 1500mAh
Display: 0.54" OLED Screen
Pod Capacity: 5mL
Coils: PnP-VM3 0.45Ω / PnP-TW30 0.3Ω
LONG COIL LIFESPAN - Compared to other coils, VooPoo's PnP Coils last significantly longer and can consumer more e-liquids, making them extremely economical.
FULL COMPATIBILITY FOR MULTIPLE FLAVOR OPTIONS - The Drag H40 offers 2 PnP coils of 0.3Ω and 0.45Ω, which satisfies DTL vaping well. It is also completely compatible with the whole PnP Coil Platform, bringing users a rich flavor experience.

THE UPGRADED PNP POD II - This upgraded version of the PnP Pod II features replaceable drip tips, a 5mL e-liquid capacity, easy side-refilling, and adjustable airflow just by rotating the pod.
SOLID MAGNETIC CONNECTION - The pod and the device are magnetically connected, bringing easy pod removal and installation. No need to worry about accidental falling off.
ROTATE TO ADJUST AIRFLOW STEPLESSLY - Rotate the pod to adjust the airflow. There are 2 air inlets which are designed stepless, which means you can freely get the airflow you want.
CUSTOMIZABLE POWER, ADAPTIVE EXPERIENCE - There are 2 modes for power adjusting: RBA and SMART. The former allows vapers to customize the power from 5W to 40W, and the latter will smartly work out a proper output based on the present coil's resistance.
SIX SAFETY-PROTECTION MECHANISMS FOR SAFE VAPING - Safety protections include overtime protection, output overcurrent protection, low battery protection, overheat protection, overcharge protection, and atomizer short-circuit protection.
Kit Contents:
1 x Drag H40 Mod
1 x PnP Pod II (5mL)
1 x PnP-VM3 0.45Ω Coil (pre-installed)
1 x PnP-TW30 0.3Ω Coil
1 x Type-C Cable
1 x User Manual
1 x PnP Platform Card