VooPoo Argus XT Kit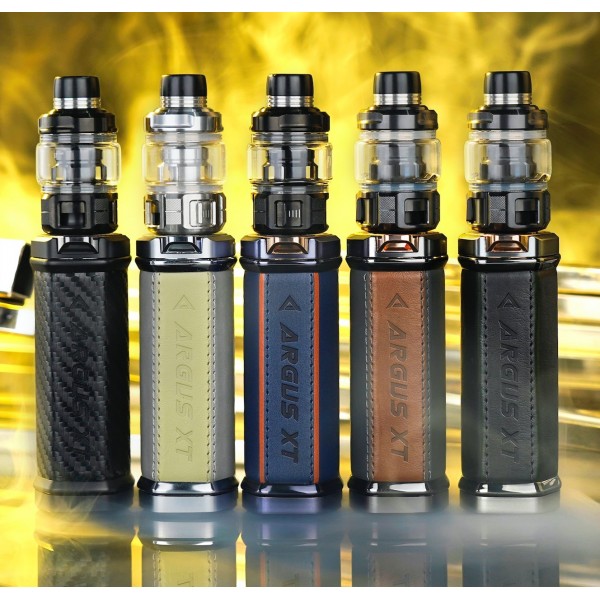 VooPoo Argus XT Kit

S O L I D A S A R G U S .
VooPoo has released the exciting new Argus XT Kit that offers sub-ohm vaping performance and impressive vapor production. Powered by a single 18650 or 21700 rechargeable battery, the Argus XT has a maximum power of up to 100W and utilizes high-performing TPP mesh coils. Combining a sophisticated style and high performance, the Argus XT is exceptionally durable and robust and has an IP68 rating, ensuring it is waterproof, shockproof and dustproof. The volcano crater-designed MAAT Tank comes equipped with the TPP-DM1 (0.15ohm) coils and the TPP-DM2 (0.3ohm) coil to provide unrivalled vapor and flavor production. This coupled with an impressive sub-ohm vape tank will offer an unforgettable vaping experience.
HOLE-LESS APPEARANCE WITH LANYARD SPRING DESIGN - Designed in hole-less appearance and leather-metal mixed material, the Argus XT creates a comfortable grip and offers you sleek color options. The lanyard rings make the device more convenient to carry outdoors.
STABLE & POWERFUL - The Argus XT has a max power of 100W while its consistent output power brings you a consistent taste. Compatible with both a single 18650 or single 21700 battery, the Argus XT matches the max powers from 80W to 100W.
IP68 CERTIFICATED FOR DURABILITY & STRENGTH - With the IP68 rating waterproof, dustproof, and shockproof, the Argus XT remains intact to survive extreme environments or scenarios.
INGENIOUS TANK DESIGN - The ingenious Volcano Crater Design makes the featured Maat Tank virtually leakproof with an improvement on airflow. The unique volcano crater structure drains the condensation down and isolates it at the bottom, effectively avoiding condensation infiltrating the mod. The two-way airflow gives you an easy deep DL vaping experience by reducing 60% airflow loss when compared to others.
MAAT Tank Specifications:
Dimensions: 26mm x 52mm
Capacity: 6.5mL
Material: Stainless Steel + Pyrex
Resistance: TPP-DM2 0.2Ω / TPP-DM4 0.3Ω
LESS FILLING, MORE FULFILLING - The Maat Tank supports an enlarged 6.5mL e-liquid capacity. Simply unscrew the top cap to expose the fill port when you need to refill.

COMPATIBLE WITH ALL TPP COILS - With faster heat-up, even heating, and richer flavor resolution of TPP Coils, you'll enjoy multiple powerful vaping experiences.

DUAL-IN-ONE TECH 2.0 WITH UPGRADED FLAVOR & TASTE - The Dual In One Tech 2.0 mesh coils bring fuller, more delicate and multi-layered clouds. At 100W power output, the lifespan of the upgraded TPP Coils is increased by 30%, up to 40mL e-liquid, about 6 tanks of e-liquid.
ENTERNAL POWERHOUSE - The Argus XT uses a single external 18650 or 21700 battery and adopts Type-C with 5V/3A fast charging function.
Argus XT Mod Specifications:
Dimensions: 96mm x 34.5mm x 37mm
Material: Leather + Zinc Alloy
Output Power: 5W to 100W
Battery Capacity: 1 x 18650 or 21700 (not included)
Output Voltage: 0V-8.5V
Resistance Range: 0.05Ω-3.0Ω
Charging Voltage: Type-C 5V/3A
ENTER THE AGE OF INTELLIGENCE - GENE.TT 2.0 is the latest intelligence chip applicated in mod systems. The smart GENE.TT 2.0 switches matching powers automatically to support users with multiple vaping modes such as Smart, RBA, Turbo, and TC. The new UI interface makes the way you vape more user-friendly.
Turbo - Release the maximum boosting vapor of TPP coils instantly.
Smart - Automatically match the best output power.
RBA - Customize the powers ranging from 5W to 200W
TC - Ni, Ti, SS (memorize 3 customized vaping modes)
HUMANIZED QS LOCK BLOCKING ACCIDENTAL TOUCHES - No need to worry about accidental firings with the QS lock button.
3A TYPE-C FAST CHARGING PORT - With the Type-C fast charging function, the Argus XT speeds up the charging by at least 30%.
SEVEN SAFETY PROTECTIONS - Safety features of the Argus XT include overtime protection, low battery protection, overcharge protection, output over-current protection, short-circuit protection, overheating protection, and anti-reverse battery protection.
Box Contents:
1 x Argus XT Mod
1 x MAAT Tank 6.5mL
1 x TPP-DM1 0.15Ω Coil

1 x TPP-DM2 0.2Ω Coil

1 x Glass Container
1 x Silicone Rubber Pack
1 x 18650 Battery Adapter
1 x Type-C Cable
1 x User Manual