VooPoo Argus Air Pod Kit w/ 2 Coils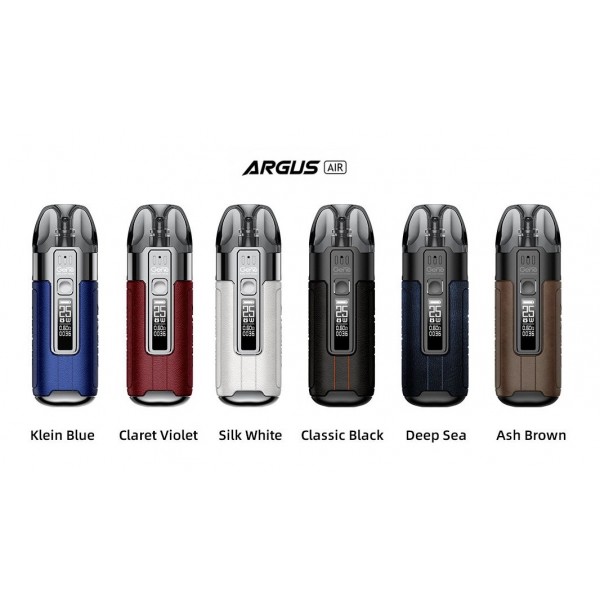 This version of the Argus Air Pod Kit comes with ONE pod and TWO different coils.
VooPoo Argus Air Pod Kit
T H E B E S T O F B O T H W O R L D S .
Have you ever wondered if there's a pod that fits all the different needs and can be used more freely? Both able to change coils and use convenience. Both big clouds and delicate flavor. Both button fire and auto-inhale. Don't look any further, the Argus Air is coming for it all!
Max 25W Output
900mAh Built-in Battery
Large & Small Double Airway
Button & Pneumatic Dual Start Mode
Compatible with all PnP Series Coils
BOTH AESTHETIC AND TACTILE - The Argus Air has a 900mAh built-in battery, a 0.54' OLED screen, and supports PnP coils, but is only the size of two fingers. Despite its small size, it is still one of the most feature-rich devices in the pod system category.
MORE FASHION FOR OUTDOORS - The combination of metal and leather promotes the strongest outdoor atmosphere with a unique aesthetic perspective, whether visual or tactile is exciting.
Specifications:
Material: Leather + Zinc Alloy
Size: 31.4mm x 19.3mm x 95.3mm
Pod Material: PCTG
Capacity: 3.8mL
Output Power: 5-25W
Output Voltage: 3.2-4.2V
Resistance: 0.6-3.0Ω
Battery Capacity: 900mAh
DIFFERENT DIRECTIONS, DIFFERENT FLAVORS - When using the standard cartridge, try to rotate the atomizer 180° and insert it. The Argus Air will bring unparalleled comfort to MTL and RDL.
BOTH START MODES ARE CONVENIENT - Argus Air supports both button and pneumatic start modes, and either mode will give you plenty of clouds immediately.
LET GENE.AI THINK FOR YOU - The Argus Air intelligently identifies the coil and matches the power. Not only that but when you find your favorite power, GENE.AI will restore your exclusive power each time you plug and unplug the cartridge.
ADJUSTABLE POWER - The Argus Air supports 5-25W power adjustment to suit your different flavor needs. Just press the ignition key three times in a row to adjust the power.
FULL ENERGY FROM INDOOR TO OUTDOOR - The 900mAh built-in battery with 5V/2A Type-C fast charging interface, keep your Argus Air passionate all the time.
MORE FLAVOR, LESS COST - The PnP series coil has a wide range of models to choose from. We suggest the Argus Air uses coils with resistance value of 0.6Ω and above to obtain the most comfortable suction experience.
PnP-VM4
Half-DL
Resistance: 0.6Ω
Type: Single Mesh
Range: 20-28W
Suggested E-Liquid: Nicotine ≤ 25mg
PnP-TM2 Coil
Resistance: 0.8Ω
Type: Single Mesh
Power Range: 12-18W
Suggested E-Liquid: Nicotine ≤ 35mg
POWERFUL MAGNET TO KEEP IT SIMPLE - With a 3.8mL side fill, the strong, magnetic cartridge has a newly upgraded design and manufacturing process, effectively preventing oil from leaking and making it more convenient and hygienic to use.
SEVEN SAFETY PROTECTIONS - There are seven safety protections that include... overtime protection, short-circuit protection, overcharge protection, max power protection, output over-current protection, over discharge protection, and over-temperature protections.
Kit Contents:
1 x Argus Air Device
1 x Standard 3.8mL Cartridge
1 x PnP-VM4 0.6Ω Coil
1 x PnP-TM2 0.8Ω Coil
1 x Type-C USB Cable
1 x User Manual