VooPoo Alpha Zip Kit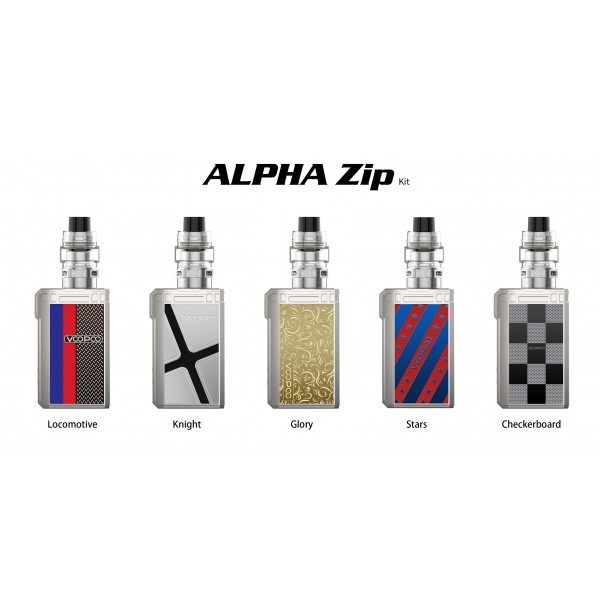 VooPoo Alpha Zip Kit
P U S H T H E L I M I T .
With a brand new metal aesthetics design and classic embodiment, the Alpha Zip is born with obsessiveness. We explore the boundary of art, subvert the restriction of traditional technics and reconstruct the aesthetic rules of the metal. The double panels of the Alpha Zip are built with 11 processes of exquisite metal carved craftsmanship, which show the delicacy of multiple sections and exquisite details of the metal design. Obviously Alpha Zip is an outstanding embodiment of aesthetic in the metal material.
INTELLIGENT GENE.FIT CHIP INSIDE, MORE POWERFUL PROFESSIONALLY - Alpha Zip arms with a brand new GENE. Fit chip which is more powerful and more stable with 0.01s firing speed and 180W maximum output.
EIGHT SAFETY PROTECTIONS:
Battery Reverse Protection - With battery reverse protection, the mod will be protected from breakdown.
Vaping Overtime Protection - Intelligent overtime protection will avoid atomizer's coil and cotton burning.
Over Temperature Protection - TC mode assures the mod and battery work properly within safe temperature range.
Over-Current Output Protection - To intelligently detect output current and close the output current when the current exceeds the highest limit.
Overcharge Protection - With dedicated lithium battery protection components, the battery will be protected against battery overcharge and damage.
Low Discharge Protection - With dedicated lithium battery protection components, the battery will be protected against battery discharge and harm.
Tank Short-Circuit Protection - When the short-circuit is detected, the mod will protect the battery by preventing the circuit returning.
Charge Balance Protection - With dedicated firmware to detect internal resistance of battery, the battery will be controlled in a steady balanced charging condition.
Mod Specifications:
Dimensions: 85mm x 51.3mm x 25.5mm
Power Range: 5-180W
Battery: 2 x 18650
Material: Zinc Alloy & Stainless Steel & Plastic
Weight: 166.5g
Resistance Range: 0.5-5.0Ω
Voltage Output: 0-7.5V
Quiescent Current: <10uA
TC Range: 200-600°F / 100-315°C
THE FIRST MAAT TANK IN THE VAPE INDUSTRY - Adopts a brand new middle adjustable triple holes airflow design for smoother flavors experience. Built-in back-up e-liquid reservoir designed to prevent the coils from burning out for your extremely fantastic flavors.
Patented Design
Middle Adjustable Airflow System
Bottom Airflow Make-Up
PnP DESIGN ON COIL - Simple and convenient to reload the coils, operate in one second. Innovative semi-embedded cover structure. Reload the coils without juice wasted or dirty hands.
Tank Specifications:
Size: 24.5mm x 55.75mm
Capacity: 4mL
Coils: MT-M1 0.13Ω Single Mesh (60-85W) / MT-M2 0.2Ω Dual Mesh (55-80W)
Material: Stainless Steel
Air Intake: Middle Adjustable Airflow
Refilling: Top-Fill
Weight: 76g
WAY TO REFILL - Press the top button, the gap will automatically flick to show the hole to refill the juice into it conveniently and easily.

Kit Contents:
1 x Alpha Zip Mod
1 x Maat Sub-Ohm Tank
1 x MT-M2 Coil
1 x MT-M1 Coil
1 x Spare Glass 2mL Tube
6 x Sealing O-Rings
1 x GENE Chip Card
1 x USB Cable
2 x User Manuals
1 x Warranty Card