VAPTIO Razor Pod Kit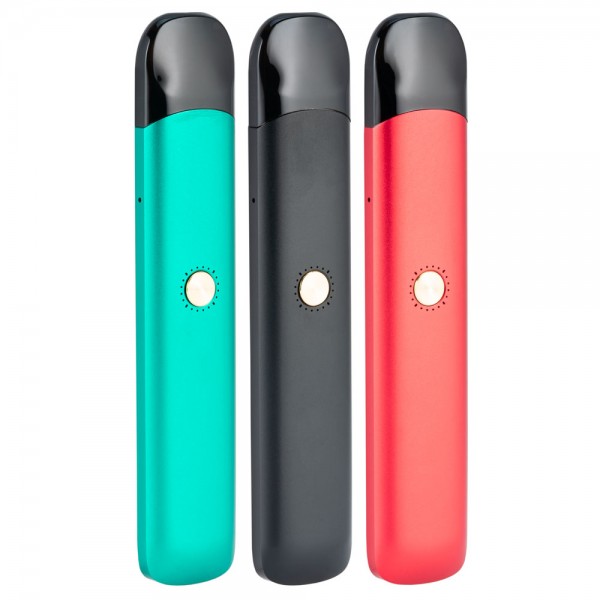 VAPTIO Razor Kit
I N N O V A T I V E F L A G S H I P V A P E P O D .
The Razor from Vaptio is a compact but multi-functional pod device with a battery indicator, pre-heating mode, and vibration notification. It adopts cold forging technology for lighter body weight and exquisite surface anodic oxidation process for a sleeker texture. It features a PCTG made top-fill cartridge with a detachable drip tip for easy filling and has an innovative mesh cotton coil for massive vapor and superior flavor satisfaction.
Specifications:
Kit Size: 22mm x 10.4mm x 116mm
Mod Material: Aluminum
Power Range: 11.5W
Battery Capacity: 550mAh internal
Pod Size: 22mm x 10.4mm x 33mm
Pod Material: PCTG
Pod Capacity: 2mL
Resistance: 0.8Ω
Charging Current: 5V / 500mA
COLD FORGING ALLOY SHELL - Smart design of the shell structure with cold forging technology and exquisite surface anodic oxidation process gives the Razor a strong, three-dimensional visual impact with sleek surface textures and light hand feeling.
SUPERIOR TASTE & MASSIVE VAPORS - Featuring innovative mesh cotton coil made with non-woven linen and organic mesh cotton, the Razor kit has outstanding performance of strong absorption, excellent e-liquid lock and storage.
Organic Mesh Cotton - more e-liquid storage
Linen - leak-proof
Non-Woven Fabric - faster e-liquid guiding
MAGNETIC CONNECTION - Magnetic pull of the base ensures the pod snugly connects to the mod, avoiding malfunction.
ONE VAPE, DOUBLE THE JOY - Whether you prefer to press a button to fire or an automatic draw, the Razor does both by automatically identifying its draw-activated or button-controlled working modes.
TOP-FILL CARTRIDGE - Detach the drip tip to refill the cartridge.
PROTECTIONS - Over-vaping, short-circuit, low-voltage, and over-charging protections.
Kit Contents:
1 x Razor Device
2 x Razor Pods
1 x USB Type-C Cable
1 x User Manual