Vaporesso LUXE Qs Kit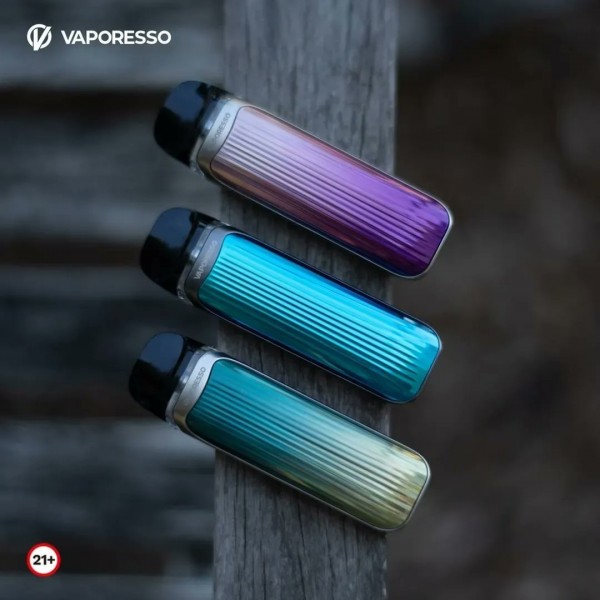 Vaporesso LUXE Qs Kit
C U T E B U T S T R O N G .
The new Luxe Qs Kit from Vaporesso is the most compact pod system that supports real RDTL vaping with a new 0.6Ω Mesh Pod. As one of the smallest and strongest pod systems by far, the Luxe Qs features new pods in new resistances but is also compatible with the original Luxe Q Mesh Pods, giving users more options! Cute in size and design, strong in flavor and vapor.
COREX Accurate Flavor Lasting Longer
Mesh 0.6Ω Pod for Perfect RDTL
SSS Leak-Resistant Technology
High Density 1000mAh Battery
COREX HEATING TECH --- ACCURATE FLAVOR LASTING 50% LONGER - Vaporesso's Patented COREX Heating Technology is applied to make flavor accuracy better than ever. It improves the pod lifespan, flavor and vapor reproduction, and vaporization efficiency ratio by 50% to provide sheer flavor accuracy and longer lifespan. Formed by the microfiber in a complex structure, the cumulus cotton of COREX ensures a more consistent and longer enjoyment by innovatively fluffier and higher e-liquid delivery.
SMALL POD CAN DO BIG CLOUDS - In addition to the pre-installed 0.6Ω Mesh Pod, the kit also includes a 1.0Ω Mesh Pod. The Luxe Qs is also compatible with the original Luxe Q Mesh Pods for more versatility.
Specifications:
Size: 91.9mm x 26mm x 16.5mm
Battery Capacity: 1000mAh
Pod Capacity: 2mL
Resistance: 0.6Ω Mesh / 1.0Ω Mesh
Charging: Type-C, 1A
SWITCH THE AIRFLOW FROM LOOSE TO TIGHT - It is super easy to adjust the airflow to either loose or tight by simply switching the pod around when you install it into your device, supporting different vaping needs.
ANTI-LEAKING, ANTI-MESS - The Patented SSS Leak-Resistant Technology locks the e-liquid inside firmly and prevents messy leakage throughout your vaping.
HOLOGRAPHIC PATTERN, BRIGHT & LUMINOUS - The holographic IML pattern, grating pattern, and vertical lines make the Luxe Qs more textured, colorful, bright, and luminous.
THE MOST COMPACT RDTL POD SYSTEM - With ergonomic design and unique IML process, the Luxe Qs gives enjoyment both visually and in hand.
SLIM, YET POWERFUL - A high-density battery with a 1000mAh capacity ensures long-term use while keeping the size compact and also supports Type-C charging.

Box Contents:
1 x Luxe Qs Device
1 x Luxe Q 0.6Ω Mesh Pod (pre-installed)
1 x Luxe Q 1.0Ω Mesh Pod
1 x Type-C Cable
1 x User Manual & Warranty Card
1 x Reminder Card