Vandy Vape PYRO V4 RDTA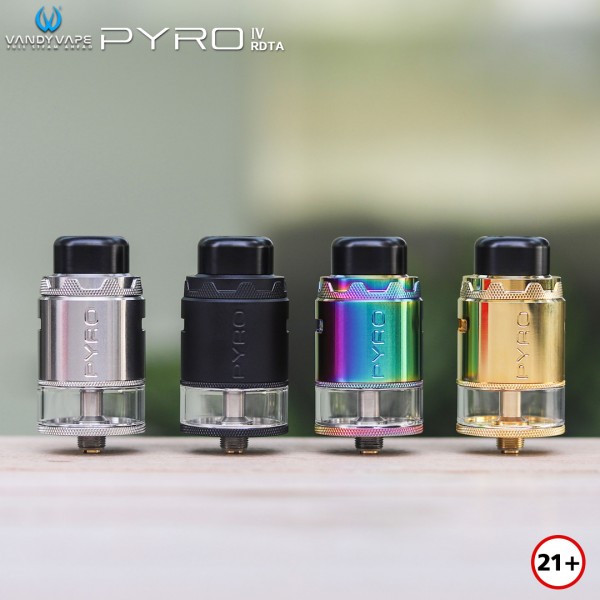 Vandy Vape PYRO V4 RDTA
I N T E N S E V A P O R , U N F O R G E T T A B L E A F T E R T A S T E .
The Pyro V4 RDTA, the fourth addition to the PYRO Line from Vandy Vape, is designed with a new air path design to provide smoother airflow and fuller taste. Experience comfort and reliability with increased e-liquid capacity, a dual post-less build deck for easy coil installation, and a 510 base so you can pair your Pyro V4 RDTA with your favorite box mod.
EASY COIL INSTALLATION - The dual post-less build deck allows you to drop the coils right in place and adjust their positioning to your preference.
LARGE CAPACITY, LONGER VAPING SESSIONS - With an increased e-liquid capacity of 5mL, you can go longer stretches before having to refill through the side-fill slot.
Specifications:
Length: 37.45mm
Diameter 25.5mm
Capacity: 5mL
Weight: 142g
AIRFLOW SYSTEM - The adjustable top airflow intake design hits the coils from three different directions, ensuring a smooth vaping experience while maintaining an anti-leakage design.
COMPATIBILITY - With the 510 base, you can pair your PYRO V4 RDTA with any of your favorite devices.
Box Contents:
1 x Pyro V4 RTA
2 x Triple Fused Clapton 0.41Ω Coil
1 x Coil Lead Guide
1 x Gold-plated 510 pin
1 x Pyrex Glass Tube
1 x Accessory Bag
1 x Instruction Manual