Vandy Vape PR SE Kit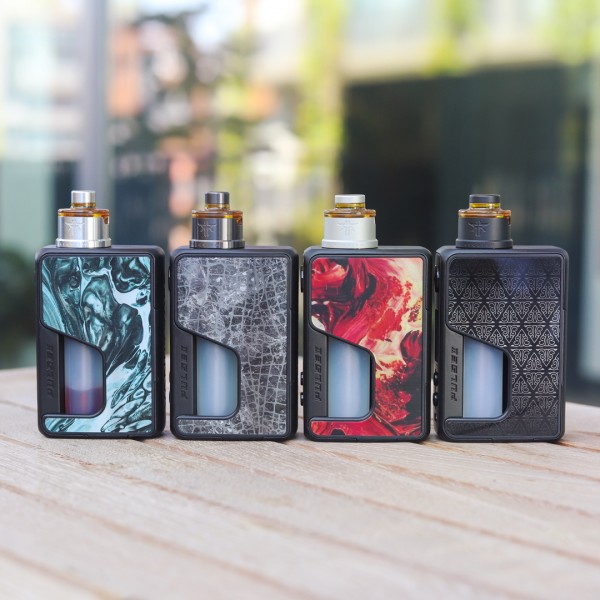 Vandy Vape PR SE Kit
A T O N Y B . P R O J E C T , C R E A T E D B Y E L M O N O V A P E A D O R .
Pairing the ever popular Pulse V2 Mod with the amazing Requiem RDA, Vandy Vape brings you the PR SE Kit. The Pulse V2 Mod can be powered by a single 21700, 20700, or 18650 (with adapter) battery and offers a Type-C fast charging port for easy, safe, and quick charging.
Main Features:
Single Coil
Three Drip Tips
Three Air Settings: DL / RDL / MTL
22mm - 24mm with Beauty Ring
Waterproof Chip / PCB
Life Proof Design
Super Durable ABS Nylon
Refined Shape and Ergonomics
21700 / 20700 / 18650 Compatible
Bottom Fill Bottle - Keeping in direct line with 510
PCBA WATERPROOF - In a situation where your device was accidentally stained by jam, butter, brine, juice, fume, dust, or other various materials, all you need to do is take out the battery and wash your device in whatever way you wish. The PCBA material provides you with a fully waterproof box mod that is easy to clean.
THREE AIR SETTINGS - There are three different airflow settings on the Requiem RDA so you can switch between DL, RDL, and MTL vaping styles.
Specifications:
Size: 97.3mm x 28.4mm x 54.7mm
Power Range: 5W to 95W
Operating Voltage: 3.2V-4.2V
Maximum Output Current Protection: <34A
Output Voltage: 0.5V-6.0V
Coil Resistance Range: 0.05Ω-3Ω
VANDY CHIP FUNCTION - Equipped with an upgraded Vandy Vape Chip with a max power of 95W, you can switch between Power, Bypass, Voltage, TC-Ni, TC-SS, and TC-Ti Modes. Safety measures include short circuit protection, open circuit protection, overheating protection, 10 seconds cut off, low battery warning, and overcurrent protection.
Box Contents:
1 x PR SE Kit
1 x Instruction Manual
1 x Spare Parts Bag
1 x QC Type-C USB Cable
1 x 18650 Battery Adapter
2 x Squeeze 7mL Bottle
1 x 2.5mm Winding Rod
3 x Different Air Hoods
2 x Fused Clapton Coil 0.26Ω