Uwell Whirl S2 Pod Kit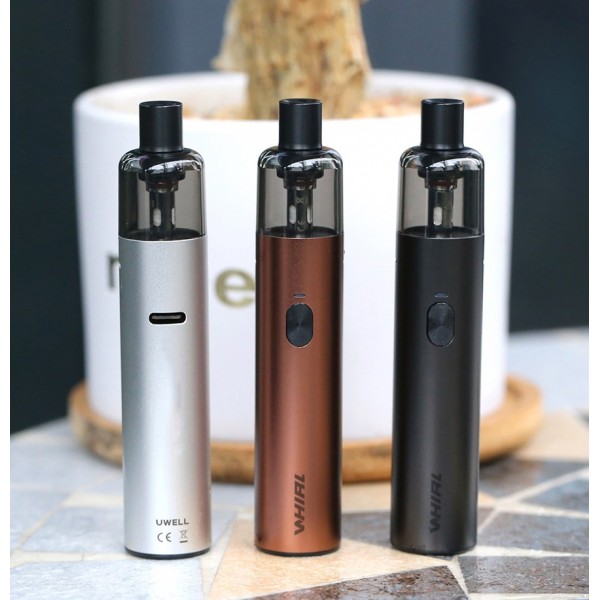 Uwell Whirl S2 Pod Kit
S H I N I N G . S T Y L I S H . S M O O T H .
The Whirl S2 is a pen-shaped pod system from Uwell with a stylish design and excellent flavor. It features a 900mAh battery capacity, 3.5mL e-liquid capacity, and weights only 39 grams, providing you with a portable device with long-lasting vaping time. The most appealing feature on the new Whirl S2 is being able to easily rotate the pod to precisely control the airflow.
Smooth Body & Smooth Vaping
Pen-Style Shape with a Large Capacity Battery
Rotating Pod for Precise Airflow Control
SMOOTH BODY, SMOOTHER VAPING - Aluminum makes the Whirl S2 sleek and shining, bringing you a comfortable grip. Its sophisticated inner structure guarantees stable and smooth vaping.
LARGE BATTERY WITH A PEN-STYLE DESIGN - The Whirl S2 has a compact and stylish design while the pen-shaped body makes it easy to grip. The 900mAh battery capacity will provide you with more than one days vaping time.
Specifications:
Dimensions: Ф20.5mm x 105mm
Output Power: Maximum 17W
Battery Capacity: 900mAh
Materials: Aluminum Alloy, PCTG
E-Liquid Capacity: 3.5mL
Coil Specifications: Whirl S2 1.2Ω / Whirl S 0.8Ω Coils
Weight: 39g
PRECISE AIRFLOW CONTROL - Simply rotate the pod to precisely adjust your airflow.
PRO-FOCS FLAVOR ADJUSTMENT TECHNOLOGY - Uwell's exclusive Pro-FOCS flavor adjustment technology perfectly restores the flavor of the e-liquid.
POD WITH REPLACEABLE COIL - Replace the coil rather than discarding the whole pod, making it more economical for long-term use. Different coils will satisfy diverse vaping needs.
Whirl S2 Coil
Resistance: 1.2Ω
Rated: 9W-13W
Material: Meshed-H

MTL Vaping
Whirl S Coil
Resistance: 0.8Ω
Rated: 18W
Material: UN2 Meshed-H

RDL Vaping
COMPATIBLE WITH FIBER FILTER TIP & 510 DRIP TIP - Two types of drip tips are available for the Whirl S2 Pod. The regular 510 drip tip is compatible with all 510 connector tanks while the fiber filter tip has the traditional cigarette-like feeling when you draw from it.
MULTIPLE PROTECTIONS - The built-in chip has multiple protections including short-circuit protection, low voltage protection, overtime protection, and open-circuit protection.
TYPE-C CHARGING CABLE - The kit includes a Type-C charging cable so you can easily plug in and charge when needed.
Box Contents:
1 x Whirl S2 Device
1 x Whirl S2 Empty Pod
1 x Whirl S2 1.2Ω Coil (pre-installed)
1 x Whirl S 0.8Ω Coil
1 x 510 Drip Tip (pre-installed)
2 x Whirl S2 Fiber Filter Tips
1 x Type-C Charging Cable
1 x User Manual