Uwell Popreel PK1 Pod System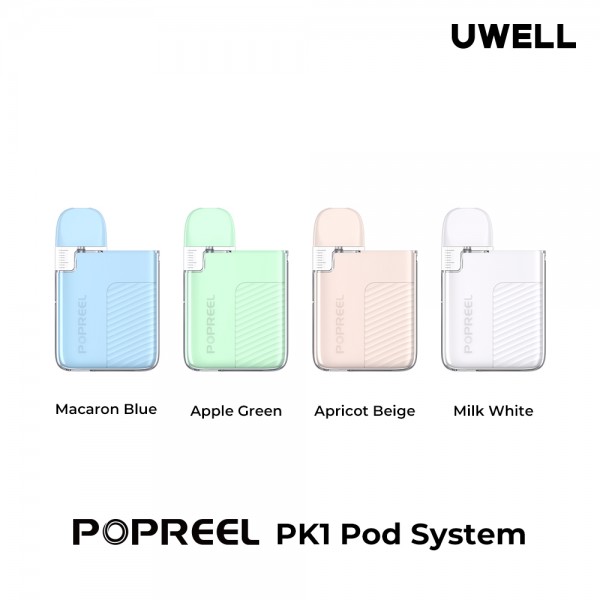 Uwell Popreel PK1 Pod System
C O L O R A T T R I B U T E D .

The Popreel PK1 Pod System from is the third addition to the Popreel Series from Uwell, which aims to feature different trending design elements that combine fashion with function. Comprised of the same dual-layer plastic shell material as the Popreel P1, the Popreel PK1 takes on more of a box-style design, but is still available in the sweetest macaron color options. Perfect as an entry-level starter kit The Popreel PK1 Pod System also doubles as a bonus fashion accessory!
DECORATIVE LANYARD - The kit comes with a lanyard ring and a sleek silicone lanyard. It can hung on the chest to free your hands or even attached to a bag so it travels securely wherever you go.
MACARON-COLORED POD - Macaron pods will add a little sugar to your life, bringing in a harmonious blend of pastel color combinations.
DUAL-LAYER FOR DURABILITY - The interior plastic shell is macaron-colored with printed lines that resemble water ripples along the outside of the pod. When you hold it, it gives the appearance of waves flowing through your palm. The transparent exterior shell is incredibly smooth and fade-proof while the dual-layer plastic casing provides durability.
Specifications:
Dimensions: 70.4mm x 45mm x 13.5mm
Output Power: 13W
Battery Capacity: 520mAh
Materials: PCTG, PC, ABS
E-Liquid Capacity: 2mL
Coil: FeCrAl UN2 Meshed-H 1.2Ω
Weight: 35.9g
UNIQUE 3-DIRECTION E-LIQUID WINDOW - The e-liquid window on the Popreel PK1 Pod is semi-shaded with small scale lines embedded so you can precisely monitor how much e-liquid you go through in a day.

PRO-FOCS FLAVOR ADJUSTMENT TECHNOLOGY - Uwell's excusive Pro-FOCS Flavor Adjustment Technology perfectly restores the original flavor from your e-liquid while optimizing the vaping experience.

LEAKPROOF DESIGN - The upgraded leakproof design effectively mitigates e-liquid leakage, providing you with a clean vaping experience.

CONVENIENT TOP-FILL - Vapers can essentially pop off the clam-shell drip tip with one hand, exposing the fill hole. Simply refill through the open port and snap the drip tip back on.
MAGNETIC POD - Strong magnets provide effortless cartridge replacement, making the pull-and-plug process much smoother and secure.
PROTECTION CHIPSET - Safety measures include short-circuit protection, low-voltage protection, and overtime protection.
Box Contents:
1 x Popreel PK1 Pod System
1 x Popreel P1 1.2Ω Pod Cartridge
1 x Spare Drip Tip
1 x Silicone Lanyard
1 x User Manual