Uwell Crown V Kit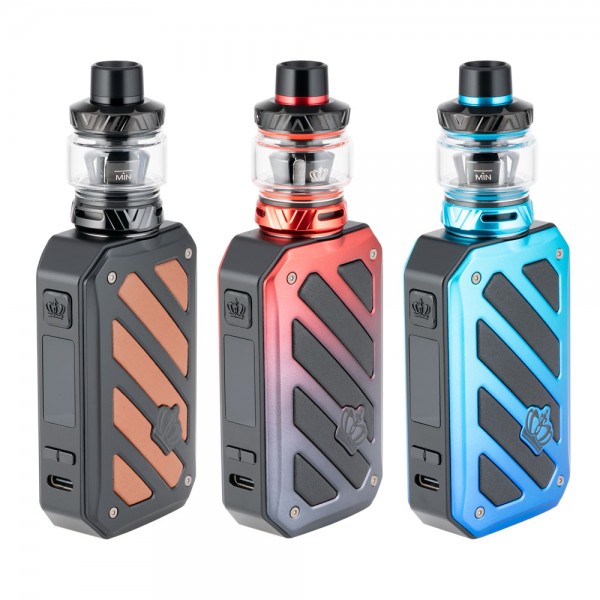 Uwell Crown V Kit
T H E L E G E N D L I V E S O N .
The Crown V from Uwell is made of stainless steel and has been delicately polished to present a bright luster and a smooth feel. The Roman numeral 'V' is of course embedded on the design of the top cap and airflow ring and the combination of leather and metal materials highlights the tough texture of the mod. The Crown V Tank utilizes Crown V Mesh Coils, which can fully and evenly atomize e-liquid and offer you excellent flavor and vapor. Pro-FOCS Flavor Testing Technology provides vapers with the ultimate vaping experience by properly controlling the heat temperature, strictly managing the material quality, and completely restoring the e-juice flavor.
Mod Specifications:
Material: Zinc Alloy, PC+ABS, Aluminum Alloy
Size: 86.2mm x 53mm x 26.2mm
Power Range: 5W to 200W
Standby Current: <100uA
Voltage Range: 0.7V to 8.0V
Resistance Range: 0.1Ω-3Ω (VW) / 0.1Ω-1Ω (TC)
Temperature Range: 200°-600°F / 100°-315°C
TFT COLOR SCREEN - The 0.96 inch TFT color screen with a brand new user interface displays vaping data more comprehensively and provides a more convenient operation experience.
LONG BATTERY LIFE - With the utilization of two 18650 batteries, the Crown V Mod offers power and fast charging capability with the Type-C cable so you can enjoy vaping anytime, anywhere.
DUAL WORK MODES, SIMPLE BUT ENOUGH - The power mode on the Crown V Mod is suitable for new vapers as its really easy to navigate and operate. Recommended for more experienced vapers, TCR Mode: stable output, match with coils of different TC materials.
BRAND NEW PCBA FOR POWERFUL AND RELIABLE PERFORMANCE - With reliable performance and a 0.008 second firing speed, Uwell's new PCBA is dustproof, moisture-proof, and e-juice proof, all to protect the core unit and prolong the life of the mod.
Tank Specifications:
Diameter: 29mm
Height: 50.5mm
Material: Stainless Steel + Pyrex
Tank Capacity: 5mL
Thread: 510
MULTIPLE MESH COILS --- MULTIPLE VAPE EXPERIENCES - The Crown V Coils are available in a few different resistances and can fully and evenly atomizer e-liquid and offer you excellent flavor and vapor.
UN2 Single Mesh Coil
Resistance: 0.23Ω
Smoothest airflow for direct-to-lung vape.
The fragrance and sweetness of the e-liquid burst through with rich flavor.
Recommended Wattage: 65-70W

UN2-2 Dual Mesh Coil
Resistance: 0.3Ω
Suitable for a restricted direct-to-lung vape.
The vapor is warmer and the flavor is saturated.
Recommended Wattage: 50-55W
UN2-3 Triple Mesh Coil
Resistance: 0.2Ω
Slightly tight airflow for tight direct-to-lung vape.
Offers a fairly strong throat hit.
You can always get huge vapor and decent flavor.
Recommended Wattage: 65-70W
PATENTED SELF-CLEANING TECHNOLOGY - The Crown V atomizer can absorb the e-juice in the condensation holder through regular usage and vaporizes it. It reduces e-juice leakage and lessens the cleaning frequency.
OPTIMIZED CAP DESIGN - Refill e-juice with minimal effort by unscrewing the top cap 90°. The filler hole has a silicone check valve to avoid e-liquid leakage and make filling cleaner.
Kit Contents:
1 x Crown V Mod
1 x Crown V Tank
1 x UN2 Single Mesh 0.23Ω Coil (pre-installed)
1 x UN2-2 Dual Mesh 0.3Ω Coil
1 x Extra Glass Tube
1 x Pack of Replacement O-Rings
1 x Drip Tip Cover
1 x Type-C Cable
1 x User Manual