Uwell Crown M Pod Mod Kit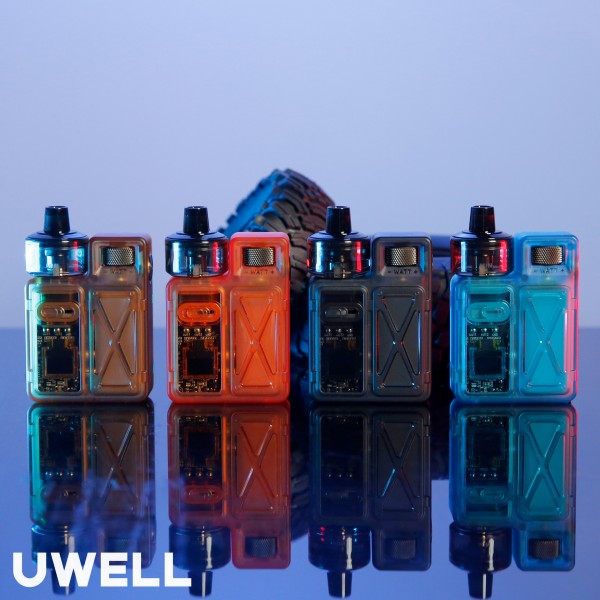 Uwell Crown M Pod Mod Kit
T R A N S F O R M I N G P O W E R , R U L I N G F L A V O R .
The Crown M Pod Mod from Uwell is a powerful product with competitive parameters and an innovative coil design. The Twin-Coil supports dual output modes, providing different vaping experiences. The unique outer case and adjusting wheel adds fun to this new product.
SEPARATELY CONTROLLED TWIN-COIL - The innovative Twin-Coil design allows the two parts of the coil to work separately.
DUAL OUTPUT MODES - The alternation working mode allows the two parts of the coil to work one by one with a 0.8Ω resistance, suitable for MTL. The Mutual Working Mode allows the two parts of the coil to work together with a 0.4Ω resistance, suitable for DTL.
ENTERTAINING WHEEL POWER ADJUSTMENT - Scroll the wheel to adjust the power. Convenient and interesting.
Specifications:
Materials: PC, PCTG
Dimensions: 82.3mm x 52.6mmx 26.8mm
Net Weight: 73.6g
E-Liquid Capacity: 4mL
Output Power: 5W to 35W
Coil Specifications: Crown M Coils
Battery Capacity: 1000mAh
PRECISE AIRFLOW ADJUSTING VALVE - The adjusting valve is on the outer case, no need to remove the pod! Slide the valve for precise airflow adjustment.
DIFFERENT COILS FOR MULTIPLE FLAVORS - Besides the Twin-Coil, there's a spare 0.6Ω coil for RDL vaping. The mode-choosing function is disabled with this standard coil.
Crown M Twin-Coil
MTL & DTL
Resistance: 0.8Ω(15W-18W)/0.4Ω(30W-35W)
Material: FeCrAl Meshed-H
Crown M Coil
RDL
Resistance: 0.6Ω(20W-23W)

Material: FeCrAl Meshed-H
LARGE CAPACITY & BETTER UTILIZATION OF E-LIQUID - The 4mL e-liquid capacity and the 1000mAh internal battery capacity satisfies daily use. The improved pod bottom structure elevates the e-liquid utilization.
UNIQUE TRANSPARENT OUTER CASE DESIGN - Built-in circuit board appears from the transparent case. The display between the shell and the circuit will demonstrate the current working states.
EASY TOP FILLING & BETTER LEAKAGE CONTROL - Open the top cap and the filler plug to fill with e-liquid, bringing a clean filling process.
PRO-FOCS FLAVOR ADJUSTMENT TECHNOLOGY - Uwell's upgraded Pro-FOCS flavor adjustment technology ensures the restored flavor and premium taste.
Box Contents:
1 x Crown M Pod Mod
1 x Crown M Empty Cartridge
1 x Crown M Twin-Coil Meshed-H 0.8Ω/0.4Ω
1 x Crown M Coil Meshed-H 0.6Ω
1 x Type-C Charging Cable
1 x User Manual