Uwell Cravat Pod Kit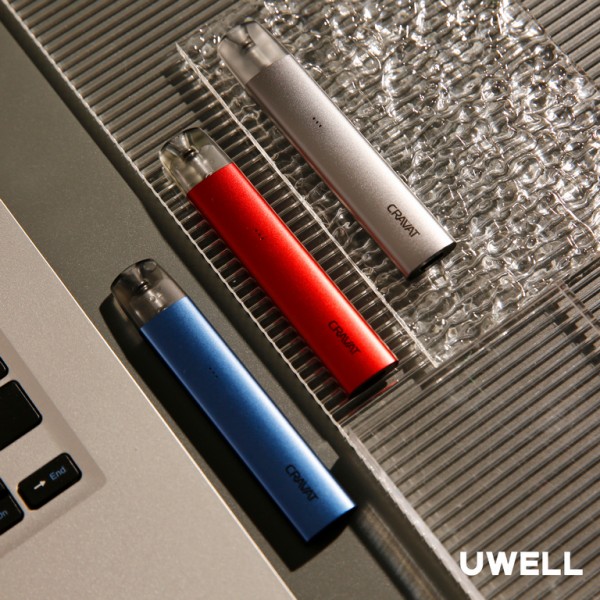 Uwell Cravat Pod Kit
S L E N D E R , L I G H T , C O M P A C T .
The Cravat Pod System Kit is Uwell's slimmest product yet, equipped with premium taste. Weighing in at only 20 grams, it's small 9mm body makes the Cravat a great companion for daily vaping, while its metal texture assures elegance and grip comfort. The Cravat acts well as an e-cig, as it has economical and practical superiorities. It cuts off complex functionality and focuses on flavor restoration instead, giving customers an affordable price and perfect flavor. Especially when compared with disposables, its cost advantage is more evident for long-term use. Users can refill it with their favorite e-liquid and change the pod rather than discarding the pod system. This slim product adopts a reasonable structure design and UWELL's patented Pro-FOCS flavor adjustment technology. A simple and great product.
Specifications:
Dimensions: 103mm x 19.3mm x 9mm
Output Power: Maximum 9W
Battery Capacity: 300mAh
Materials: Aluminum Alloy, PCTG, POK, PC
E-Liquid Capacity: 1.5mL
Pod Resistance: 1.2Ω
Weight: 20.5g
EASY AUTO DRAW - The automatic draw feature makes the Cravat super easy to use. The sensor detects the inhalation precisely for instant ignition.
CONVENIENT SIDE REFILLING - Open the side-fill plug and fill through the port - convenient for all users!
TRANSPARENT POD - The Cravat Pod is visible so you can easily monitor your e-liquid levels, preventing dry hits and potential coil burnouts.
SOLID MAGNETIC CONNECTION - The pod and the device connect securely with strong, solid magnets, making the pod easy to remove and install.
Box Contents:
1 x Cravat Pod Device
1 x Cravat Refillable Pod 1.2Ω
1 x Type-C Charging Cable
1 x User Manual