Uwell Caliburn Explorer Pod Kit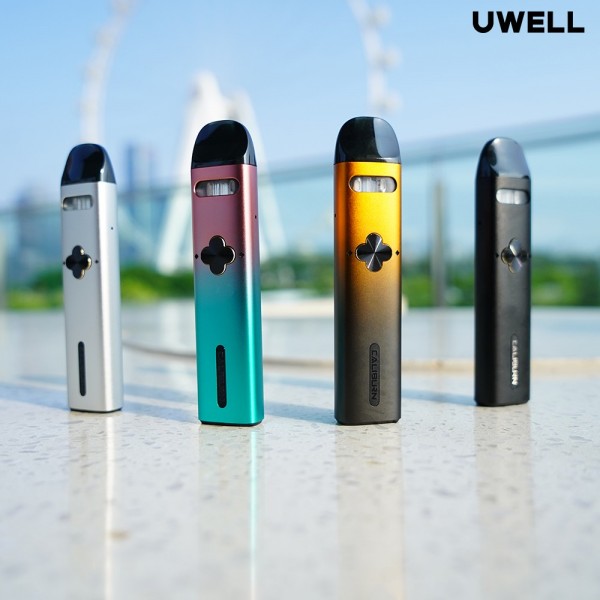 Uwell Caliburn Explorer Pod Kit
F L A V O R I S T B E T W E E N F I N G E R S .
The Caliburn Explorer Pod Kit from Uwell features an innovative dual-sided cartridge, a 32W max output, and an integrated 1000mAh battery. Constructed from durable aluminum alloy, the Caliburn Explorer delivers outstanding flavor and performance, while ensuring a lightweight and portable form factor. The Caliburn Explorer dual-sided cartridge can hold 2mL of e-liquid on each side, accommodating those who love a variety of flavors without needing to change out the cartridge. Powered by an integrated 1000mAh battery, the Caliburn Explorer can last through a whole day without needing a recharge!
Dual Coil Mode
4-Leaf Clover Menu Button
1000mAh Battery Capacity
MIX 'N' MATCH FLAVORS - Press the up button once to activate this mode, and enjoy 2 flavors from every puff. Come and create your favorite flavor combinations; e-juice with mint flavor is highly recommended.
LEFT OR RIGHT COIL MODE - Press the left button once to activate the left coil, and press the right button to activate the right coil. Insert different coils on either side with different e-liquid to taste unique flavors.
ALTERNATE MODE - Press the button down once to activate the alternate mode, and the flavor will be switched automatically upon each puff while inserting different e-liquid into either side.
FOUR-LEAF CLOVER MENU BUTTON FOR ALL-IN-ONE CONTROL - The Caliburn Explorer features a 4-leaf clover menu button, enabling you to switch different modes or activate different coils effortlessly.
Specifications:
Materials: Aluminum Alloy + PCTG
Dimensions: 128.1mm x 26mm x 14.6mm
Net Weight: approx. 55g
E-Liquid Capacity: 4mL (2mL for each side of cartridge)
Output Power: Maximum 32W
Coil Specifications:
FeCrAl UN2 Meshed 0.8Ω Caliburn G Coil
FeCrAl UN2 Meshed 1.2Ω Caliburn G2 Coil
Battery Capacity: 1000mAh
DUAL COIL MECHANISM - Different coils bring out the best flavors for MTL nic salt users. You'll get a max 32W output if you insert a 0.8Ω Caliburn G Coil on each side.
PROMISING A FULL DAY OF VAPING - The Caliburn Explorer boasts the largest battery capacity among the Caliburn Series that delivers both time-saving charging and longer lasting vaping.
ENJOYING MORE PUFFS - The total 4mL e-liquid capacity and dual side-refill mechanism allow you to enjoy more puffs without frequent refills.
SUPER WIDE CLEARVIEW WINDOW - The super wide clearview juice window provides a better and safer way to vape as it significantly reduces the chances of burnt coils from low juice levels. This prevents a burnt coil from occurring before it even gets to live its life.
PRO-FOCS FLAVOR ADJUSTMENT TECHNOLOGY - This patented tech guarantees a highly restored flavor. Fill your mouth with authentic and mellow tastes.
AUTO DRAW - Sensitive air activation, effortless operation.
LARGE BATTERY CAPACITY, LONG SERVICE TIME - The massive 1000mAh battery with 2A fast charging ensures long vaping time, bringing you continuous enjoyment.
Box Contents:
1 x Caliburn Explorer Device
1 x Caliburn Explorer Empty Cartridge
2 x Meshed 0.8Ω Caliburn G Coils (1 x pre-installed)(1 x spare)
2 x Meshed 1.2Ω Caliburn G2 Coils (1 x pre-installed)(1 x spare)
1 x Type-C Charging Cable
1 x User Manual