Uwell Caliburn AZ3 Pod Kit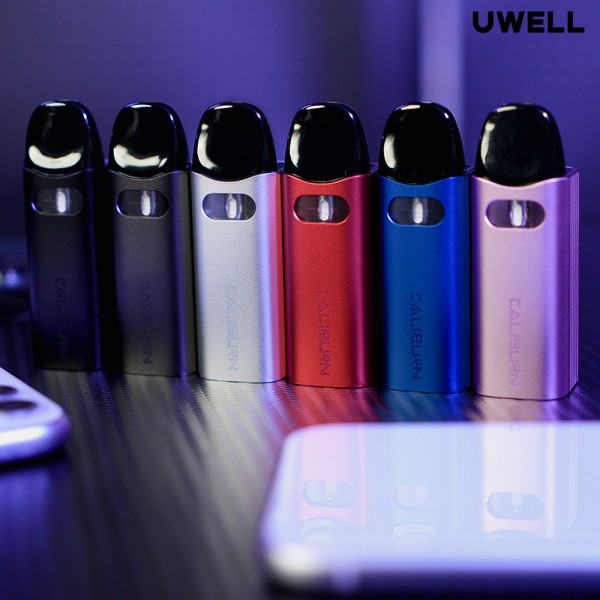 Uwell Caliburn AZ3 Pod Kit
T H E M I N I , T H E M I G H T Y .
As the next new addition to the Caliburn Series, Uwell brings you the Caliburn AZ3, which introduces ZEGA: a whole new form factor. Utilizing the Caliburn A3 Refillable Cartridge with 2mL e-liquid capacity, the Caliburn AZ3 is compatible with all Caliburn A3 / A3S Refillable Pods. The Caliburn AZ3 is powered by an internal 750mAh battery and is also equipped with Type-C 2A fast charging technology so you can spend less time waiting and more time vaping.
ZEGA FORM FACTOR - The Caliburn AZ3 boasts a whole new form factor: ZEGA. Breaking ground on pod evolution form factors, the new ZEGA reduces the front area space by 50% and increases the battery capacity by 22%.
INTRODUCING BREATH-PULSE LED - The more reassuring way to vape! During vaping, the on trigger breath-pulse LED indicator will show battery level in different colors.
Specifications:
Dimensions: 68.9mm x 23.8mm x 23.6mm
Output Power: Maximum 17W
Battery Capacity: 750mAh
E-Liquid Capacity: 2mL
Coil Specifications:
FeCrAl Meshed 0.8Ω Caliburn A3 Refillable Pod
FeCrAl Meshed 1.0Ω Caliburn A3 Refillable Pod
Materials: Aluminum Alloy + PCTG

Net Weight: approx. 39.5g
INTRODUCING U-VALVE - This new 3-step refilling mechanism saves time and is hassle-free! While traditional liquid refilling involves multiple steps of having to pull the pod out and put it back in, pulling out and replacing the silicone stopper (all in addition to refilling), the U-Valve allows you to simply remove the drip tip and refill while the pod is still in the device. No cartridge removal, no pulling out the stopper.
iAFC SYSTEM - The new Integrated Airflow Control (iAFC) System offers a more precise way to vape.
① iAFC allows the full spectrum of MTL range in a precise, step-less way for control for perfectionists.
② iAFC prevents accidental adjustment on the device body after setting your favorite flavor.
CLEARVIEW WINDOW - The clearview juice window provides a better and safer way to vape as it significantly reduces the chances of burnt coils from low juice levels. This prevents a burnt coil from occurring before it even gets to live its life.
WIDE COMPATIBILITY - Providing a smarter way to use a pod, the Caliburn AZ3 is compatible with all Caliburn A3 and A3S Refillable Cartridges.
PRO-FOCS FLAVOR ADJUSTMENT TECHNOLOGY - This patented tech guarantees a highly restored flavor. Fill your mouth with authentic and mellow tastes.
AUTO DRAW - Sensitive air activation, effortless operation.
LARGE BATTERY CAPACITY, LONG SERVICE TIME - The 750mAh large battery capacity with 2A fast charging ensures long vaping time, bringing you continuous enjoyment.
Box Contents:
1 x Caliburn AZ3 Device
1 x Caliburn A3 0.8Ω Refillable Pod (pre-installed)
1 x Caliburn A3 1.0Ω Refillable Pod
1 x Type-C Charging Cable
1 x User Manual