Uwell Blocks MOD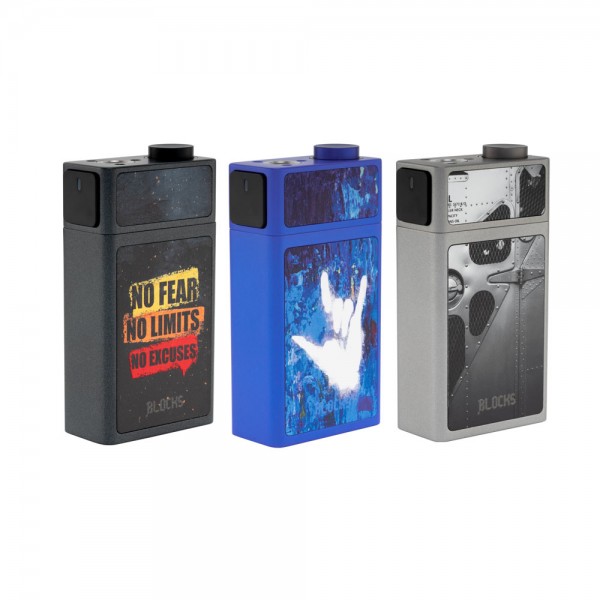 Uwell Blocks MOD
P U M P O U T E V E R Y B I T O F F L A V O R .
We are pleased to introduce our latest UWELL product to you, the Blocks Squonk Mod. The mod has a built-in 15mL e-juice bottle, with a patented juice pump design on the top, making it more accurate and convenient than squeezing a bottle. It also features a transparent window for checking the juice level easily. Powered by single 18650 battery, it is capable of firing up to the max output of 90W, in just 0.008 seconds, allowing you to enjoy the vape in any moment. In addition, it adopts a big fire button, making it super easy to operate.
PATENTED JUICE PUMP - Pump the juice by pressing the top button. Pump out every drop of juice to maximize the usage. Precisely 0.13mL for each pump. More accurate and convenient than squeezing a bottle.
15ML CAPACITY - No need to take another juice bottle for on the go. Check the juice level through the transparent window.
EASY TO REFILL - It is easy to install/remove the mod sleeve and the juice bottle with the plug-pull method. The juice bottle is made of hard ABS plastic. It is shatter-resistant and prevents the overflow by accidentally squeezing during the assembly.
Specifications:
Dimensions: 93.07mm x 49mm x 25mm
Juice Capacity: 15mL
Maximum Wattage: 90W
Standby Current: <30 uA
0.008s FAST FIRING - A conformed coating applied to the motherboard provides batter anti-corrosive properties. It protects the core units and prolongs the life of the Mod. New protection designs give Blocks Mod better performance and improve safety. Blocks Mod fires in 0.008 second, so you can enjoy the vape in any moment.
LEAK-PROOF 510 CONNECTOR - New connector design prevents the juice leaking into the mod.
SINGLE BATTERY OUTPUT - The kit is powered by a single 18650 battery with a 90-watt output (battery sold separately).
EASY TO OPERATE WITH ONE HAND - It's easy to operate the pump button and fire button with just one hand. The protruding design on both sides gives you a unique feel for the mod.
Box Contents:
1 x Uwell Blocks Squonk Mod
1 x Micro USB Cable
1 x User Manual