Tesla WYE II 86W Kit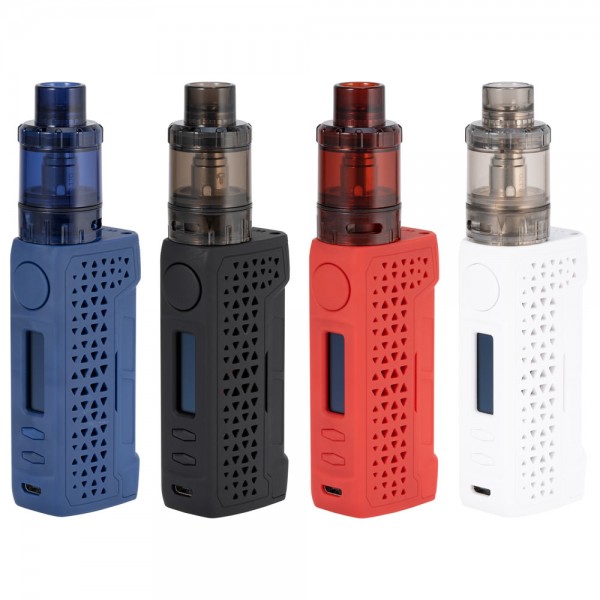 Tesla WYE II 86W Kit
I T ' S D E S I G N , I T ' S A R T .
Inspired by the infamous Louvre in France, the WYE II 86W Kit inherits the classic pyramid shape with a unique fuselage of triangular shaped, hollowed-out design, graciously paying tribute to the arts. This single 18650 device reaches a max wattage of 86 watts and comes in 4 basic colors. The featured tank is the durable Citrine 24 Sub-Ohm, one of the most cost-effective, non-disposable tanks on the market.
DIFFERENT VAPING EXPERIENCE - CCW Mode --- the user can adjust the output power curve to set the taste mode that is suitable for them and utilize the "private customization" aspect of the device.
Mod Specifications:
Dimensions: 39mm x 28mm x 80.5mm
Material: PC+ABS
Cell Type: single high-rate 18650
(discharge should be above 35A)
Weight: 72g
Output Mode: KA Mode
Output Wattage: 7-26W
(in 0.5W increments)
Max Output Voltage: 8.5V
Max Output Current: 30A
USB: 5V / 1.0A
Taste Mode: Norm / Soft / Hard / CCW
Memory Mode: M1
Resistance Range: 0.1Ω - 3.0Ω
INGENIOUS DESIGN, LIGHTWEIGHT, AND PORTABLE - The hollowed-out design of the mod is not only fashionable and dazzling upon a glance, but also portable. The weight of the mod is only 52g in itself, making it super easy to take with you on the go!
Tank Specifications:
Dimensions: 24mm x 44.5mm
Material: PC
Capacity: 4mL
Resistance Available:
T-X4 0.17Ω Coil (40W-60W)
T-X5 0.15Ω Coil (60W-80W)
Easy-to-Fill top fill system
Adjustable airflow system
CLEAR OLED DISPLAY - The OLED intelligent display clearly shows the battery power, coil resistance, output voltage, and output wattage.
MULTIPLE PROTECTIONS - Over puffing, low-voltage, no atomizer, atomizer short, reverse connection, and automatic power adjust protections.
Kit Includes:
1 x WYE II 86W Mod
1 x Citrine 24 Tank
1 x T-X4 0.17Ω Coil (pre-installed)
1 x T-X5 0.15Ω Coil
1 x Charging Cable A
2 x User Manuals
1 x Box Packaging