Super Cape 220W Kit by VAPTIO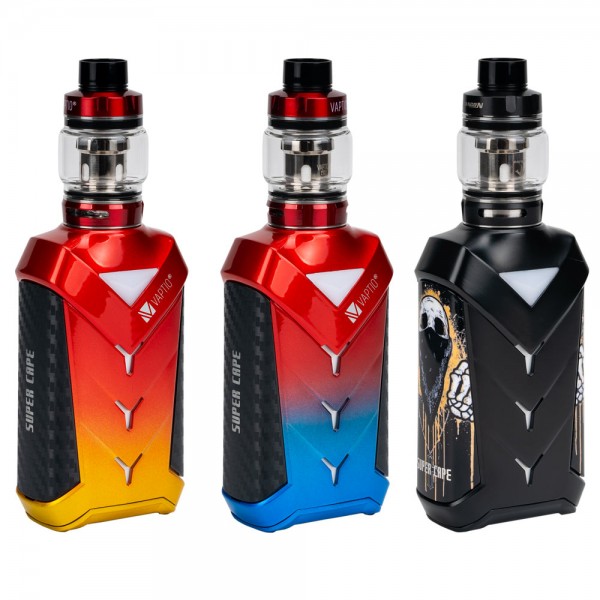 Super Cape Kit by VAPTIO
The Super Cape Kit is a fascinating, brand new kit from Vaptio. The surface of the Super Cape mod is innovative, using In-Mould Labelling (IML), a kind of molded printing technique that has a gradient spray paint finish. On the front of the mod is the 1.3 inch TFT HD color screen, with the other side of the mod features the LED lights. Powered by dual 18650 batteries (sold separately), the Super Cape Kit can fire up to 220W maximum output in 0.005s and supports multiple user modes. The Paragon Tank is not only a powerful one but also an all-round sub-ohm tank for your daily use. The kit includes two of the latest coils on the market as well; Paragon Mesh and Paragon Strip Coils. On average, Paragon Coils have at least three times longer lifespan. The tank also has enhanced airflow structure, helping to keep the tank cool when vaping continuously. Paragon's coil versatility allows for unrivaled epic flavor options. Enjoy ultra-flavorful taste, huge vapor production, and longer coil lifespan.
Super Cape Mod Specifications:
Size: 93.7mm x 52mm x 34.5mm
Screen Size: 1.3 inch TFT HD
Battery: 2 x 18650 (not included)
Output Wattage: 1-220W
Resistance Range: 0.1-5.0 ohms
USB Charging: DC 5V/2A
STYLISH GRADIENT SPRAY PAINTED FINISH + IML - Super Cape embodies a perfect integration of exterior style and interior unique technology, combining a gradient spray painted finish and in-mould labeling.
LEAK-PROOF ELECTRODE - Super Cape applies a leak-proof electrode to perfectly avoid short-circuit danger and guarantee the best experience.
EASY BATTERY CHANGING - Just one click, the battery sticks out for you to change it.
FAST CHARGING & FAST SYSTEM UPGRADE - With a revolutionary 5V/2A USB Cable, Super Cape will be charged faster and its software system can be quickly upgraded online.
Paragon Tank Specifications:
Dimensions: 25mm x 49mm
Capacity: 8mL
Resistance Range: 0.15 Ohm Strip, 0.2 Ohm Mesh
Fill Type: Top-Fill System
SUPER LARGE TANK - Super Cape's 8mL super large tank, four times the size of the common 2mL size, is wholeheartedly intended to prolong your vaping enjoyment.
810 DRIP TIP, SMOOTHER VAPING - Super Cape comes with an 810 drip tip, bringing smoother vaping and wilder cloud-chasing opportunities.
MESH & STRIP COILS GIVE SUPERIOR TASTE - Super Cape adapts to both mesh and strip coils, able to be switched among VW/TC/Smart/CCW/CCT/Bypass modes, dedicated to providing you unlimited possibilities in creating any superior flavor.
Kit Includes:
1 x Super Cape Mod
1 x Paragon 8mL Tank
1 x Paragon Mesh 0.2 Ohm Coil
1 x Paragon Strip 0.15 Ohm Coil
1 x User Manual
Spare Parts