Suorin Trident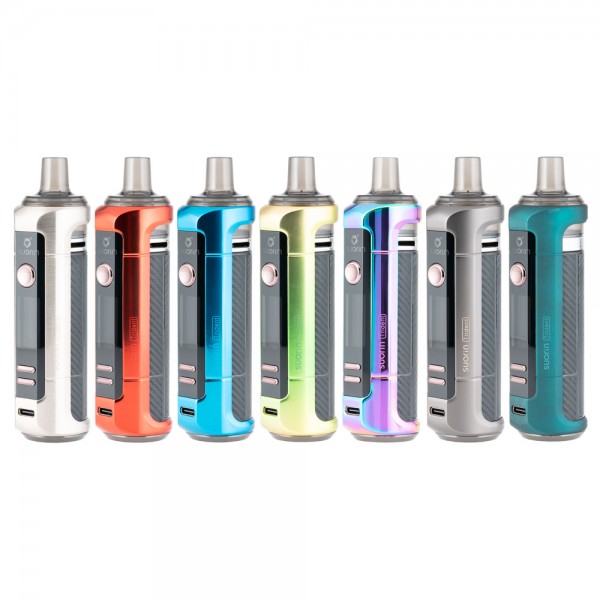 Suorin Trident
D E S I G N E D F O R T H E U L T I M A T E .
Suorin Trident boasts an intoxicating mix of breathtaking design, outstanding vaping dynamics, and uncompromising lightweight construction. In accordance with our most advanced ORI Chipset technology, Trident keeps pushing the boundaries of pod mods.
REINFORCED CHIPSET CREATES BRILLIANCE - Equipped with the upgraded ORI Smart Chip, Trident can automatically monitor, control, and manage the entire process of atomization to provide you with an ultimate vaping experience like never before. It can also be compatible with different atomization coils such as single mesh and triple mesh coils, ensuring you the best flavor and superior cloud production.
UNRIVALED RECORD-BREAKING FIRING SPEED - With a record-breaking firing speed of 0.006s, Trident is one of the fastest pod mods which is ideal for users looking for some serious power output with minimal fire delay. The brand new Quick-Firing Technology improves the performance from 0.025s to 0.006s, 76% faster than the already lightning-fast products.
Specifications:
Dimensions: 120mm(H) x 34.6mm(W) x 31.2(D)
Weight: 114g (without battery)
Material: Zinc Alloy + Plastic
Battery: Single 18650 (not included)
Output Wattage: 5W to 85W
Working Voltage: 3.3V to 4.2V
Cartridge Capacity: 4.4mL
Coil Resistance:
TRI Single Mesh 0.2Ω, 0.4Ω, 0.6Ω
TRI RBA (optional)
Charging Interface: Type-C
Charging Current: 1.0A
Charging Time: 2 hours
IMPRESSIVE PERFORMANCE WITH BOOST CONVERTOR - Flavor and vapor is no longer effected by the remaining battery. To achieve a superb performance, the boost convertor of the Suorin Trident can generate the inner energy to a versatile power up to 85W, while maintaining its best performance for thrilling vaping dynamics.
DUAL AIRFLOW ADJUSTMENT, DOUBLE ENJOYMENT - Never stop optimizing advanced technology and refining the vaping experience. Suorin brings new possibilities of airflow design. With the dual airflow adjustment dials, the Trident is able to precisely fine-tune the airflow to maximize the overall atomization efficiency.
KEEP IMPROVING EVERY DETAIL - Incorporating a massive 4.4mL transparent cartridge, the Trident allows a longer stretch between refills. Through the visible e-liquid level window, you can easily monitor your levels.
BREAKING LIMITATIONS - The Trident is compatible with the TRI Series Coils.
TRI Single Mesh 0.2Ω, 0.4Ω, 0.6Ω Coils - Enjoy pure flavor as you always do.
TRI Triple Mesh 0.2Ω - Explore the rich sense of flavor and more vapor.
TRI Single Coil RBA - Have fun with the RBA while experiencing a stronger performance than ever.
SLS RACING DESIGN - Finished in a glossy metallic and featuring a matte carbon black pattern, the menacing bodywork of the Trident features all the engineering and technology that makes it one of the most luxurious pod mods from Suorin.
DRIVE PASSION WITH EFFICIENCY - To be faster, lighter, nimbler. Trident is powered by a single 18650 battery and features a Type-C port which contributes to optimizing the charging efficiency and service life. It takes this formidable mix and intensifies it - heightening in every sensation.
CUSTOMIZE YOUR POWER - The utterly intellectual ORI Technology inside the Trident adds a whole new dimension of the voltage regulation. Automatically strike the perfect balance between the wattage and the mesh coils. You can also adjust it from 5W to 85W with your preferred voltage. It also incorporates a luxurious 0.96" TFT display screen paired with an intuitive interface that offers many settings, operation modes, and puff data.
RELIABLE SECURITY SYSTEM - Five safety measures are included such as open circuit protection, 8s vaping protection, short circuit protection, low voltage protection, and overcharge protection.
Box Contents:
1 x Trident Mod
1 x Trident Cartridge 4.4mL
1 x TRI Single Mesh 0.4Ω Coil
1 x TRI Triple Mesh 0.2Ω Coil
1 x User Manual