SnowWolf P40 Mini Kit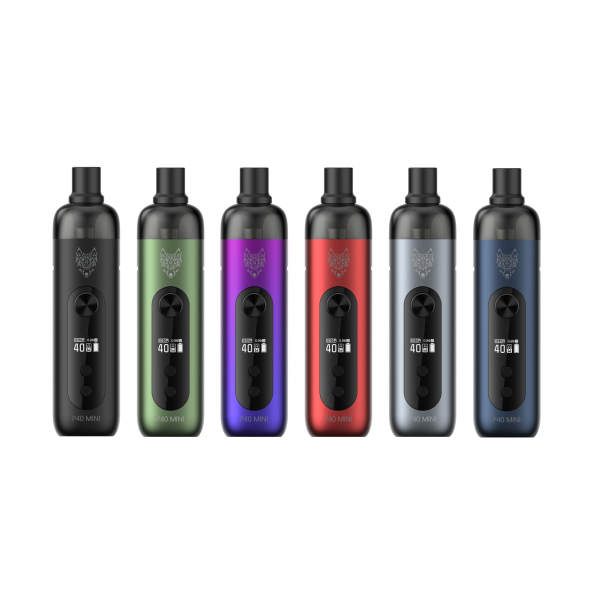 SnowWolf P40 Mini Kit
1 0 W Q U I C K C H A R G E .
The SnowWolf P40 Mini Kit is a small but powerful device that features an integrated 1100mAh rechargeable battery, a max 40W output, and can hold up to 5mL of e-liquid with the PCTG refillable pod. Constructed from durable Aluminum Alloy, the SnowWolf P40 Mini hosts the IFV960 Smart Chip with advanced coil recognition to identify which of the SnowWolf TAZE Coils are installed in the refillable pod. The chipset also uses auto mode, special intelligent power curve, and RBA mode. Under Auto Mode, P40 Mini would automatically adjust the wattage based on the coil put in. Different from the previous product, P40 Mini has a special working mode -- Smart Wattage Curve Output, which can be achieved the best balance between the power and the taste. Use Taze-ε RBA Coil (sold separately) to achieve RBA Mode to help you DIY your vaping style. With the help of the USB Type-C port on the bottom, you can achieve 2A and 10W fast charging.
Specifications:
Materials: Aluminum Alloy + PCTG
Dimensions: 105.5mm x 26.5mm x 27.6mm
Pod Capacity: 5mL
Display: 0.42" OLED Screen
Working Mode: Intelligent Constant Power Output
Working Voltage: 3.2V~4.2V
Output Voltage: Gradient Power Output
Battery Capacity: 1100mAh
Resistance Support: 0.25Ω-3.0Ω
Compatible with TAZE Coils:
Taze-α --- 1.2Ω
Rated: 8-12W
Taze-β --- 0.6Ω
Rated: 15-25W
Taze-γ --- 0.3Ω
Rated: 25-35W
The Taze-ε RBA Coil is specially designed under RBA Mode to help your DIY vaping style.
Taze-ε --- RBA
Charging Interface: USB Type-C
Kit Contents:
1 x P40 Mini Mod
1 x P40 Mini Pod
2 x Taze-β 0.6Ω Coil
1 x Drip Tip (Inner 8.0mm)
1 x Drip Tip 510 (Inner 6.0mm)
1 x Type-C USB Cable
1 x User Manual
1 x Warranty Card