SnowWolf Kfeng Kit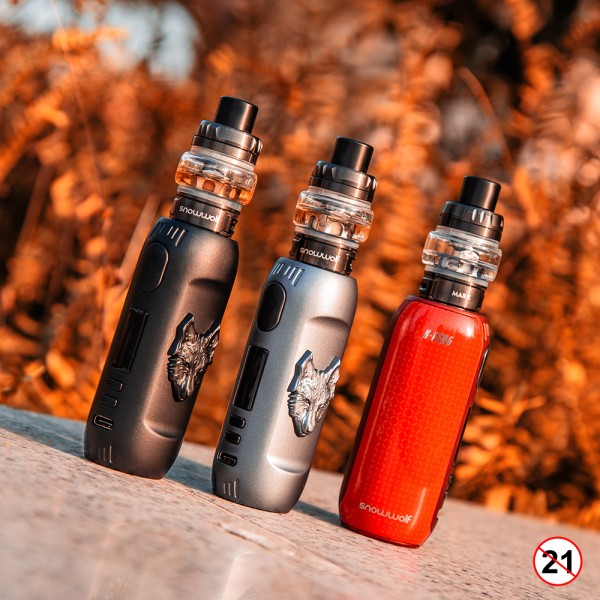 SnowWolf Kfeng Kit

The SnowWolf Kfeng has a different feel to it from the traditional box mod. The 80W mod has a slim body, giving you a better hand-feeling, and a novel appearance. It carries on that classic element that represents the SnowWolf brand --- a 3D SnowWolf logo. With a real fast-charge of 4.5A, Kfeng offers you an amazing charging speed with the USB Type-C charging port. Included with the Kfeng mod is the SnowWolf Mark Tank which is equipped with a new mesh coil, Mark-X, made with upgraded coil technology.
K-Feng Mod Specifications:
Dimensions: 82mm x 35mm x 30mm
Wattage Range: 5-80W
Voltage Output: 0.5-7.5V
Resistance Range: 0.2Ω-3Ω
Working Mode: PWR, Ni, Ti, SS, SMART Curve
Battery Capacity: 2500mAh
Charging Current: 4.5A
Charging Interface: USB Type-C
0.008 SECOND INSTA-FIRE SYSTEM - Supporting an 0.008 second insta-fire, the Kfeng provides you with the most sensational taste in every puff and a large vapor cloud experience.
A REAL-FAST CHARGE - Optimizing the charging system, the Kfeng can be fully charged 3 times faster than other devices, proving you with a super-fast charging speed.
SMART CHIP INSIDE --- SAFETY FOR VAPING - The IFV80 Smart Chip provides short-circuit, low voltage, over-charge, and PCB Board Overheat protections.
Mark Tank Specifications:
Dimensions: 22mm x 43mm
Wattage Range: 25W-35W (Best 30W)
Resistance: 0.3Ω
Working Mode: PWR, Ni, Ti, SS, SMART Curve
Capacity: 2mL / 3mL
UPGRADED COIL TECHNOLOGY --- MARK-X MESH 0.3ΩCOIL - Being devoted to new coil technology evolution, the Mark-X mesh coil offers a sensational vaping experience, providing a long-lasting performance and great taste from your e-liquid.
Kit Includes:
1 x Kfeng Mod
1 x Mark Tank
1 x Mark-X Mesh 0.3Ω Coil
1 x Spare Glass
1 x Pack of Spare O-Rings
1 x USB Cable
1 x User Manual
1 x Warranty Card