SmokTech Baby V2 3pk Coils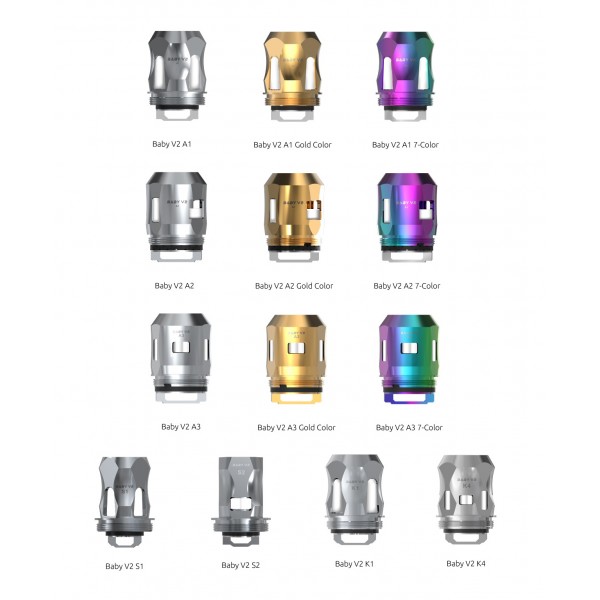 SmokTech TFV8 Baby V2 3pk Coils
Brand new Baby V2 cores by SmokTech for the all new TFV8 Baby V2 Tank. It also has two powerful new cores, Baby V2-A1 and Baby V2-A2; the V2-A1 has a super large heating area to offer you a quick heating process while V2-A2 has dual mesh structure inside to produce huge vapor clouds. Baby V2-A1, A2, and A3 not only have the color of stainless but also are available in gold and 7-color. Excellent inside design combines with a sleek look, the new coil colors can absolutely perfect your tank. Innovation keeps changing the vaping experience!
NEW HYPER ENGINES - Baby V2-A1 coil has a big hole inside in which you can see a large piece of mesh covering the cotton. The design is simple yet has an unprecedented excellent effect. You can feel faster heating process and greater taste. Baby V2-A2 coil has two holes inside and both of the holes have cobra mesh coverage. This design can help to bring more airflow and offer you massive vapor. Baby V2-A3 has three separate heating coils inside, combining with 3 larger airflow slots at the bottom of the tank, more air can be straightly brought in. When you fire to vape, three coils will heat simultaneously, which can bring you unprecedented huge and thick vapor!
BABY V2-S1 AND BABY V2-S2 - Baby V2-S1 Coil is made of KTR Mesh, while Baby V2-S2 Coil is made of Nickel-Chromium, both of which are custom-made coils for Stick Series battery. They work at a lower wattage but still provide intense clouds and flavor. Baby V2-S1 Coil has mesh inside making a good balance of cloud and flavor: Baby V2-S2 Coil has a more restricted airflow, and it possesses a longer lifespan due to extra direct wicking channels.

ANTIBACTERIAL MEDICAL COTTON - The new tank also uses antibacterial medical cotton, the best replacement of the former organic one. This kind of medical cotton is better and can reduce the amount of bacteria.
Available in packs of 3.