SmokTech SCAR-18 Kit w/ TFV18 Tank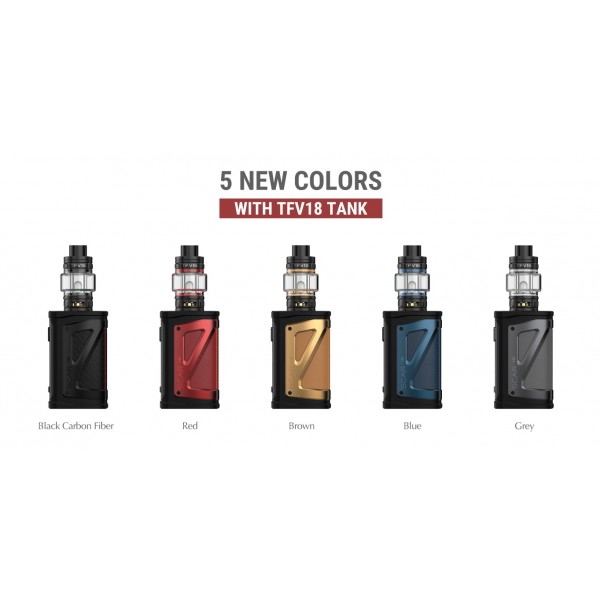 SmokTech SCAR-18 Kit w/ TFV18 Tank
B O R N F O R P E R F O R M A N C E .
Lighting up new possibilities among box mods as the SCAR-18 becomes synonymous with power and performance. Now available in two different versions, this edition of the kit is paired with the TFV18 Tank, designed to provide sub-ohm vaping for clouds chasers. It is driven by the latest chipset IQ-X with stable output and outstanding efficiency. The SCAR Mod utilizes dual 18650 batteries (not included) to provide a maximum power of 230W.
Innovation keeps changing the vaping experience!
Max Power 230W
IP67 - Waterproof, Dust-proof, Shockproof
Dual 18650 Balance Charging
TOUCH THE ART --- FEEL THE POWER - The SCAR-18 Mod is meticulously designed to be powerful and portable. Its compact design contributes a stylish and delicate look, while the leather and zinc alloy frame, that wrap that body ergonomically, fit your hand. The soft leather and hard metal form and impenetrable armor to protect against external intrusion.
NEW LEVEL OF PROFESSIONAL PERFORMANCE - With the intelligent onboard chipset IQ-X and fully upgraded components, SCAR-18 is built to provide all the horsepower you need. Four modes are provided to meet different requirements for effects, flavor, and clouds.
SCAR-18 Mod Specifications:
Size: 54mm x 30.6mm x 88mm
Weight: 183.5g
Output Wattage: 1-230W (VW) / 10-230W (TC)
Standby Current: <300uA
Input Voltage: 6.4-8.4V±0.2V
Output Voltage: 0.5-8.0V
Charging Voltage: 5V±0.2V
Charging Current: MAX 1.3A
Resistance Range: 0.10Ω-2.5Ω (VW) / 0.05Ω-2.00Ω (TC)
Temperature Range: 200°F-600°F / 100°C-315°C
MULTIPLE MODES FOR DIVERSIFIED FLAVOR - Supports precise temperature regulation of Nickel, Titanium, and Stainless Steel. This allows users to adjust the TCR (temperature sufficient of resistance) value of heating wires to customize the preferred taste.
230W MAX POWER OUTPUT - Powered by two external 18650 batteries, the SCAR-18 can reach up to a maximum output of 230W.
SPLASHES, SPRAYS, SPILLS? NO WORRIES - SCAR-18 is IP67 waterproof which can withstand water immersion between 15cm and 1 meter for 30 minutes. It's also dust-proof and shockproof to prevent dust ingress and accidental drops.
TFV18 Tank Specifications:
Material: Stainless Steel
Size: 66.3mm x 31.6mm
Weight: 93.3g
Capacity: 7.5mL (with TFV18 Meshed 0.33Ω Coil) / 6.5mL (with TFV18 Dual Meshed 0.15Ω Coil)
Recommended Power: 80-140W (Best: 100-110W)
Thread: 510
RELEASE THE EXTRA HEAT & CAPTURE AMOUNTS OF CLOUD - The straight bottom-to-top airflow system works through 3 large slots to triple the admission velocity, allowing rich vapor to go straight to your mouth in a limited time.
INNOVATION MAKES VAPING EASIER - Utilizing the excellent conductivity of copper, the TFV18 arranges 5 braces on the base to efficiently transfer the power to the coil for circular and fast heating.
ONE'S TREASURE IS ANOTHER ONE'S TRASH - Only by simultaneously pressing the button and rotating the top cap will expose the fill port, adding a layer of security against accidental openings.
TFV18 COIL INTRODUCTION - There are two new meshed coils available for the TFV18 Tanks.
TFV18 Meshed Coil
Resistance: 0.33Ω
Tight contact with the cotton inside
Better to release a mellow flavor
Rated 80-140W / Best 100-110W
TFV18 Dual Meshed Coil
Resistance: 0.15Ω
Dual meshed coil for optimized taste
Accelerating heating and denser vapor
Rated 80-140W / Best 100-110W
SOMETHING MATTERS FOR A REASSURING VAPING EXPERIENCE - A well-received vaping experience doesn't refer to an unpractical, endless one, but rather a continuous one that indulges your passion for vaping and turns into a key device. That will be the 7.5mL TFV18.
PICK THE FINEST TASTE - The straight, wide-bore resin drip tip is vital for capturing streams of vapor and a comfortable vaping experience for an anti-scald and odorless performance.
MULTIPLE PROTECTIONS - The SCAR-18 provides multiple types of protections to avoid potential risks. A self-adaptive power output functionality has been added to ensure a constant power output during vaping. Protections include intelligent atomizer recognition, puff monitoring system, 8 second cut-off, short-circuit protection, over-heating protection, and low battery warning.
Kit Includes:
1 x SCAR-18 Mod
1 x TFV18 Tank (7.5mL)
1 x TFV18 Meshed 0.33Ω Coil (pre-installed)
1 x TFV18 Dual Meshed 0.15Ω Coil
1 x Bulb Glass Tube Replacement
1 x USB Cable
1 x User Manual