SmokTech POZZ X Pod System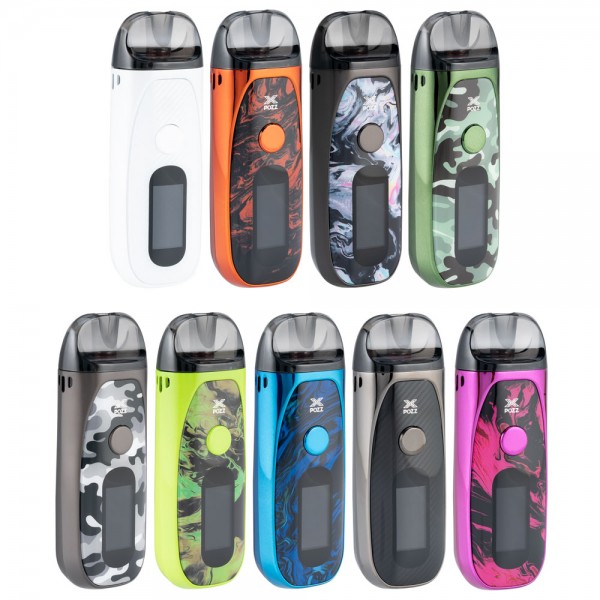 SmokTech POZZ X Pod System
S M O K T E C H 1 0 T H A N N I V E R S A R Y - U N V E I L T H E P O Z Z X .
The breakthrough of pod systems, the enhancement of power and performance, and the innovation of new possibilities, are now ready to be discovered! Introducing the POZZ X, a new pod system kit with a powerful battery with a 1400mAh battery capacity and a large 4.5mL e-liquid capacity. The kit includes a POZZ X RPM Pod which allows adjustable airflow, and two RPM coils that are ideal for either MTL or DTL style vaping. Continue to discover what else is possible with the POZZ X.
Innovation keeps changing the vaping experience!
Composite Material
Three-Spoke Air Intake
Adjustable Airflow
Anti Miss-Operation
4.5mL E-Liquid Capacity
Max Power 40W
DISCOVER THE X POTENTIAL - Dive into the POZZ X to discover more possibilities. It's endowed with many stunning features comparable to a traditional box mod with a 0.96 inch TFT screen, adjustable power, enlarged air intake channel, large battery capacity, multiple functional protections, and more.
INCREASED AIRFLOW & ENLARGED INTAKE CHANNEL - POZZ X achieves maximum airflow, greatly improving its flavor and taste. Coupled with a symmetrical three-spoke air intake, which maximizes the air intake channel, POZZ X provides more stable airflow and further enhances the taste and flavor.
EASY-TO-READ 0.96 INCH LARGE SCREEN - The 0.96 inch screen uses enlarged font to display basic information such as wattage, voltage, resistance, number of puffs, and time of each puff, more clearly, and easier to read.
SMALL BODY, LARGE CAPACITY - The POZZ X uses a more optimal structure to make it 20% smaller than similar products in the industry. It has a 1400mAh battery with a capacity higher than the average pod system device.
TAKE A CLOSER LOOK - The panel is made from composite material with a four-later structure, hard-coating, PMMA, PC, and process layers, starting with the outer most layer, going in. This ensures the POZZ X is thinner (panel thickness 0.6mm), harder (panel hardness 4H), and shinier. In addition, the fabrication cost is higher and you can get a more decent looking device.
Specifications:
Size: 97.3mm x 33.6mm x 22mm
Weight: 97g
Output Power: 5-40W
Battery Capacity: 1400mAh
Input Voltage: 3.3-4.2V
Output Voltage: 1-4.0V
Standby Current: <140uA
Load Resistance Range: 0.3Ω-2.5Ω
E-Liquid Capacity: 4.5mL
Charger Output: 5V/2A
Overcharge Voltage: 4.3V
Over-discharge Voltage: 2.4V
Overcharge Current: 2A
POZZ X RPM POD TAKES ALL RPM40 COILS - POZZ X RPM Pod is compatible with all RPM40 coils including the RPM RBA coil to maximize coil compatibility and meet vaping needs of high-end users.
RPM Mesh 0.4Ω Coil
For best flavor
Fast heating process
Wattage: 25W
RPM Triple 0.6Ω Coil
Fast ramp-up time
Excellent flavor & vapor production
Wattage: 25W
LARGE CAPACITY POD - The POZZ X RPM pod can hold 4.5mL e-liquid capacity, ensuring a long and relaxing vaping.
PLEASURE IS IN THE DETAILS - All the fine details are realized everywhere to impress you. The curve of the lateral surface makes full use of ergonomics and its smooth edges gives you a cozy hand feel without worrying about scratches when in your pocket or bag.
PERFECT IN WORKMANSHIP - The frame of the device adopts dual processes of electroplating and baking paint, which not only ensures the metal texture but also enriches more color options.
MAKE YOUR OWN CHOICE - Provided with three function options that allow you to easily access each function. Fast press the power button 5 times to enter the selection interface.
A - to lock
B - to power off
C - puff clear
ADJUSTABLE AIRFLOW - The bottom of the POZZ X RPM pod is equipped with an adjustable airflow ring, which tightly surrounds the coil, forming the shortest path for the airflow to the coil, thereby maximizing flavor enjoyment and vapor production.
POWER ADJUSTABLE - Adjusting the current power levels is a simple three-click of the power button.
KEEP OFF ACCIDENTAL TOUCHES - Unintentional touches would result in unexpected adjustment of power output. POZZ X offers the Power Lock feature to lock the vaping function due to accidental touches. Fast press the fire key 5 times --> selection interface --> long press your selection A to lock the vaping function.
TRANSLUCENT OIL CHAMBER - The transparent pod allows for more intuitive observation of e-liquids. It is made from PCTG, the most popular food-grade material, featuring safety, reliability, corrosion resistance, and high light transmission.
SINGLE POWER BUTTON FOR ALL - Power-on, power off, selection, adjustment, and confirmation are all done by the round power button in the middle, which simplifies operation and provides convenience.
VALUE YOUR DEVICE SAFETY - Smart detection helps to better understand the device status. POZZ X provides you with fundamental security services.
Intelligent Atomizer Recognition, Puff Monitoring System, 8 Second Cut-Off, Short Circuit Protection, Over-Heating Protection, and Low Battery Warning.
Kit Contents:
1 x POZZ X Device
1 x POZZ X RPM Pod (RPM Mesh 0.4Ω Coil) (pre-installed)
1 x RPM Triple 0.6Ω Coil
1 x USB Cable
1 x User Manual