SmokTech NOVO Master Kit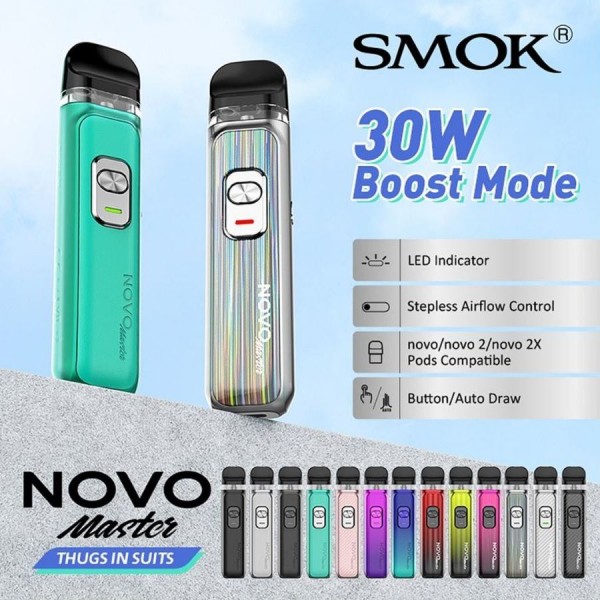 SmokTech NOVO Master Kit
T H U G S I N S U I T S .
NOVO Master from SmokTech, a taste master, delivering on taste appeal and consistency with a range of streamlined configurations. It functions on a leakproof puffing system, designed with a top-filling system and childproof lock. The integrated 1000mAh battery enabled long endurance and the broad compatibility endows it with greater accessibility. Instead of the predefined airflow level, the stepless airflow control acts more precisely to bring you taste delight.
Innovation keeps changing the vaping experience!
30W Boost Mode
Novo / Novo 2 / Novo 2X Pod Compatible
Button / Auto Draw
LED Indicator
Stepless Airflow Control
SOMETHING INCREDIBLE - Double click the power button to switch between boost mode, which is suitable for those who chase intense flavors, and standard mode, for those who are content with a milder taste.
CALL UP THE BEAST - When the battery is at full power and boost mode is activated, a wild taste with power up to 30W will rapidly take up your taste buds and astonish you with the subtle flavor.
FULL ENDURANCE AHEAD - Equipped with an enduring 1000mAh battery inside, full-powered and fully-fledged vaping is assured.
Specifications:
Size: 24.5mm x 16.4mm x 107.5mm (Leather Series) / 24.5mm x 16.7mm x 107.5mm (Regular Series)
Weight: 64g
Battery Capacity: 1000mAh
Power Range: Max 30W
Input Voltage: (3.3V-4.35V) ± 0.2V
Standby Current: <50uA
Resistance Range: (0.6Ω-3.0Ω) ± 5%
Charging Voltage: 5V±0.2V
Charging Current: Max 0.85A
Overcharge Voltage: 4.425V±0.05V
Over-discharge Voltage: 2.4V±0.1V
YOU DO HAVE CHOICES, BUT YOU DON'T HAVE TO MAKE THEM - The approach to the NOVO Master is to make a smooth vaping experience even easier as you can choose between button activated vaping or draw-activated vaping.
SLIDE OR STOP, YOU ARE IN CHARGE - It is your taste preference that decides the air intake and tightness of the taste.
LIGHT KNOWS THE DEVICE BETTER, YOU KNOW THE LIGHT BETTER - While vaping, the LED indicator changes colors to correspond to the real-time battery power, keeping things clear that when to relish the sheer moment and when to refuel the battery.
Red Light: Battery Power<30%
Blue Light: 30%<Battery Power<70%
Green Light: Battery Power>70%
THE MORE, THE BETTER WITH LEAKPROOF DESIGN - To create an incredible vaping experience, the NOVO Master deploys three designs on the pod to triple the leakproof effect; Childproof Lock, Top-Fill, and Double Silicone Rings.
MORE POSSIBILITIES TO EXPLORE - The NOVO Master is compatible with all Novo, Novo 2, and Novo 2X Pods for greater ease of use.
INTELLIGENT DETECTION - Smart detection helps to better understand the device status. Safety measures include low voltage warning, 7 second cut-off, short-circuit protection, and pod detection.
Box Contents:
1 x NOVO Master Device
1 x Novo Meshed 0.8Ω Pod (2mL)
1 x Novo Meshed 0.6Ω Pod (2mL)
1 x Type-C Cable
1 x User Manual