SmokTech Morph POD-40 Kit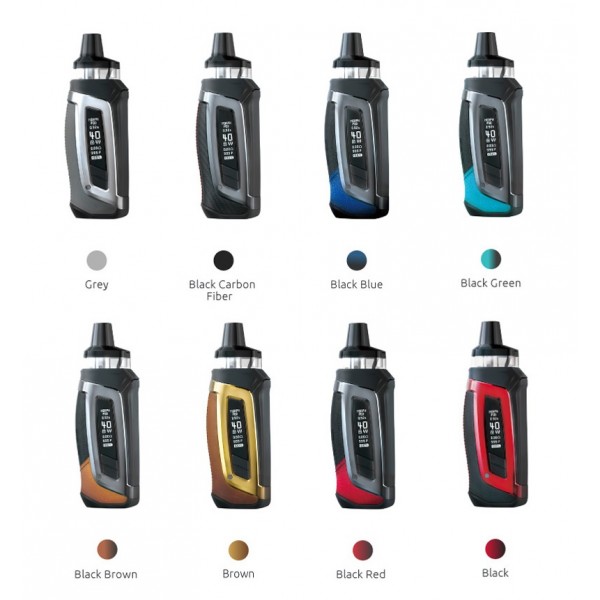 SmokTech Morph POD-40 Kit
S P E A K F O R Y O U R S T Y L E .
From the perspective of ergonomics and utility, the Morph Pod-40 from SmokTech reveals the upgraded integration of aesthetics and creativity. It is a stylish pod mod with an adjustable airflow bar, powered by the enhanced chipset that delivers up tp 40 watts of power. The Morph Pod-40 Empty RPM Pod has a 3.7mL e-liquid capacity and is compatible with the entire RPM Series Coils to maximize the coil adaptability.
Innovation keeps changing the vaping experience!
• Max 40W Power • Internal 2000mAh Battery • RPM Coil Compatible • Adjustable Airflow • 3.7mL E-Liquid Capacity •

MTL OR DTL? IT'S UP TO YOU - The adjustable airflow inlet on the top of the device supports both MTL and DTL hits by adjusting the airflow valve, allowing you to immerse yourself in each inhalation.
ADJUSTABLE POWER - With a power range of 5 to 40 watts, you can press the UP/DOWN button to adjust the required power and get the preferred effect.
Specifications:
Size: 37.2mm x 28.35mm x 108.35mm
Weight: 119.5g
Output Power: 5W to 40W
Battery Capacity: 2000mAh
Input Voltage: 3.3V to 4.2V
Output Voltage: 0.5V to 4.0V
E-Liquid Capacity: 3.7mL
Load Resistance Range: 0.3Ω-2.5Ω
Standby Current: <120uA
Charging Voltage: 5V±0.2V
Charging Current: 1.4A(Max)
ERGONOMICS PROVIDE BETTER GRIP - With an emphasis on ergonomics, our engineers have meticulously built this most thoughtful device, which is comfortable to grip, convenient to carry, and easy to use.
LOW PROFILE, LARGE KEY FOR HIGH-PROFILE PERFORMANCE - The Morph Pod-40 is ergonomically designed with a large fire key fir easy and comfortable pressing. The stealthy key design maintains a perfect balance between minimalism and aesthetics.
ARCH DESIGN WITH CHIC STYLE - The arch design of the fuselage enhances the overall aesthetics and provides a better grip.
METICULOUS ATTENTION TO DETAIL - More than showing the overall modeling, this device also lets you know that the devil is in the detail. Solid colors and color matching take nobleness and elegance further. Then touch it, and you will be amazed by its crafted, exquisitely textured surface.

ERGONOMIC MOUTHPIECE FOR SATISFYING THROAT HIT - The mouthpiece is ergonomically designed with a narrow bore, which is ideal for the enhanced throat hit, and you'll be fully content with the sensation of each inhalation.

WIDELY COMPATIBLE WITH RPM SERIES COILS - The RPM Coils work perfectly with the Morph Pod-40 RPM Pod to provide you with a smooth flavor and a satisfying throat hit.
RPM Mesh 0.4Ω Coil
For best flavor
Fast heating process
Wattage: 25W
RPM Triple 0.6Ω Coil
Fast ramp-up time
Excellent flavor & vapor production
Wattage: 25W
RPM Quartz 1.2Ω Coil
Purer flavor
Fast heat up time
Wattage: 12W (Best)
RPM SC 1.0Ω Coil
Single 1.0Ω Coil
Intense flavor & dense vapor
Wattage: 14W (Best)
RPM MTL MESH 0.3Ω Coil
Mouth-to-lung
Massive vapor & excellent flavor
More power efficient & longer lifespan
Wattage: 10W-15W
RPM DC 0.8Ω MTL Coil
Dual coils for MTL vaping
Larger area & faster heating
2mm inner hole for excellent wicking
Huge vapor & quality flavor
Wattage: 16W
CREATIVELY UNLEASHED - Compact as it is, the Morph Pod-40 is packed with a 2000mAh battery and an enhanced chipset for excellent performance and versatile operation.
LONG-LASTING BATTERY LIFE - Thanks to the built-in 2000mAh battery, this device lasts a long time on a single charge, giving you a long-lasting vaping experience. When the battery does eventually get low, you can recharge it quickly and safely with fast charging (max 1.4A) capability via the included USB Type-C charging cable.
SAFE USE FROM RELIABLE PROTECTIONS - Multiple safety protections are provided to avoid potential risks including 8 seconds cut-off, low voltage warning, atomizer recognition, lithium-ion protection, short circuit protection, and high temperature protection.
Kit Contents:
1 x Morph Pod-40 Device
1 x Morph Pod-40 Empty RPM Pod
1 x RPM Mesh 0.4Ω Coil
1 x RPM Triple 0.6Ω Coil
1 x Type-C Cable
1 x User Manual