SnowWolf Exilis Rebuildable Pod System (RPS) (Pod and Mod Sold Together, Packaged Separately)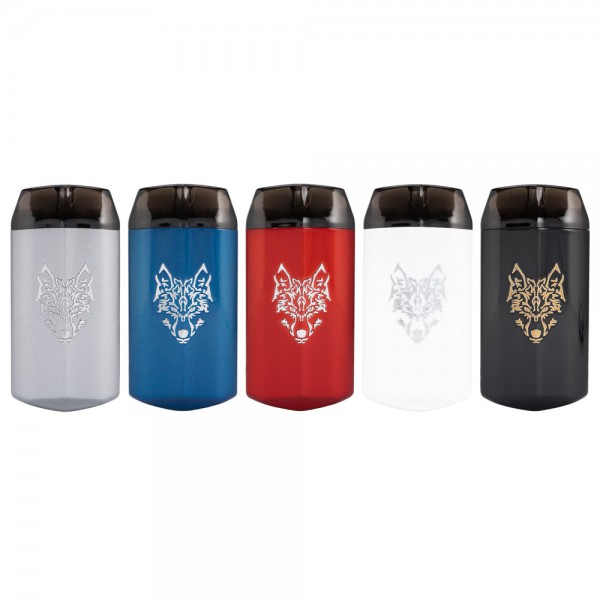 SnowWolf Exilis XPod System
***POD AND MOD SOLD TOGETHER - PACKAGED SEPARATELY***

R E B U I L D A B L E P O D S Y S T E M .
The first in SnowWolf History... The Exilis is a newly designed, one-button pod device with a firing system of 0.006 seconds. The slim design with a 980mAh battery makes the Exilis ideal for portability and durability. Highlighting the back surface is an exquisite, decorative 3D SnowWolf logo. Using the latest advancements in materials, included with each Exilis is a pod, developed by Eastman, using food grade FDA certified, silica gel. With its lightweight portability, the Exilis XPod will surely elevate your vaping experience.
Specifications:
Size: 140mm x 14mm x 83mm
Main Material: Zinc Alloy
Battery: (internal) 980mAh
Charging Support (Micro USB): DC 5V/1A
Estimated Charging Time: 90 minutes
Approximate Weight: 85g
Wattage Output: Max 15W
Resistance Range: 1.2Ω-3.0Ω
Atomizer Size: 14mm x 26.5mm x 40mm
Atomizer Capacity: 2.5mL
Resistance: 1.8Ω
Atomizer Material: Food Grade PCTG
Vaping Style: Supports MTL / DTL
Refilling Style: Bottom Refilling
Use with Nicotine Salt E-Liquids: YES
PROPRIETARY 0.006s FIRING POD - Exilis XPod is a new design of the 0.006 second insta-fire pod system with one-button trigger. Advancements in materials and manufacturing processes make the Exilis an exciting and innovative pod.
EMBOSSED 3D LOGO - Highlighted on the back surface is an exquisite, decorative 3D SnowWolf logo. Adopting a "Precision Machining Process," the embossing has a new tactile feeling. A double electroplating process makes this logo unique and extraordinary.
PORTABLE AND COMPACT - Exilis's sleek and slim design comes in an array of 5 different colors to choose from.
FOOD GRADE MATERIALS - Developed by Eastman, the Exilis uses an FDA Certified food grade materials (PCTG) to make each pod. You can choose your favorite e-liquid to put into the pod and enjoy. The Exilis has a distinctive pod system with a juice capacity of 2.5mL to prolong your vaping experience.
980MAH BATTERY - With a prolonged battery life, the Exilis is perfect for extended use.
ORGANIC COTTON DELIVERS MORE FLAVOR - Organic cotton provides the best and cleanest flavors without any additional additives.
Changeable Coil, High Performance - Using an Interchangeable Coils Technology, the Exilis makes the vaping process more convenient and cost-effective.
UNDERSTAND THE INDICATOR LIGHTS - When fully charged, the light will be green. When the device has low power, the light will flash 3 times and shut off. The 'check atomizer' light will flash 8 times and shut off. When vaping over 10 seconds, the light will flash 3 times.
FILLING SYSTEM:
Pull out the atomizer.
Pull out the rubber plug.
Add the e-liquid and press the rubber plug back in.
THE WORLD'S FIRST RPS (Rebuildable Pod System):
Pull out the coil.
Pull out the cap of the coil (please keep the cap free from cotton).
Add e-liquid onto the cotton.
Throw away the cap of the coil.
Press the coil back into the cartridge.
Box Contents:
1 x Exilis Exilis Mod
1 x Exilis Pod (2 x coils included)
1 x USB Cable
1 x Warranty Card
1 x PASS Card
1 x Lanyard
1 x User Manual