SEA Pods 5% (Compatible) (4pk) NEW FLAVORS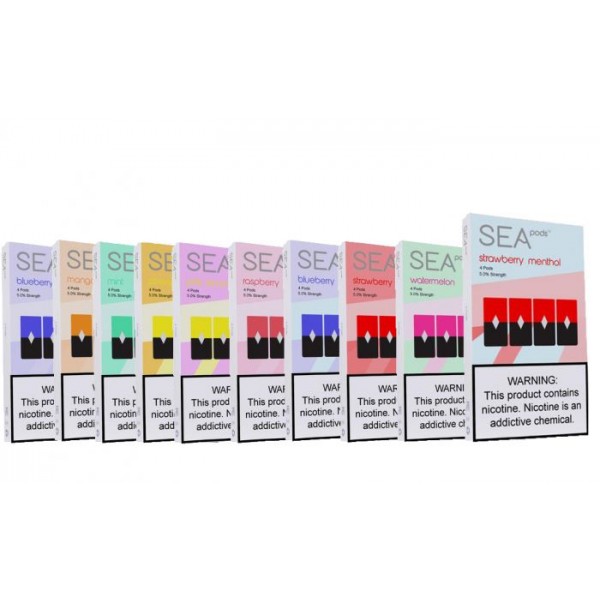 SEA Pods 5% (Compatible) (4pk) NEW FLAVORS

Each pod contains 1mL of pre-filled E-Liquid and 5% (50mg) nicotine strength
Flavors
Blueberry- A taste of fresh Blueberry.
Blueberry Menthol- A blend of Blueberry and Menthol.
Mango- A taste of fresh tropical Mango.
Mango Menthol - This blend saves the palate by combining a tropical mango goodness with the cool spirit of mint

Mint- A taste of cool and refreshing Mint.
Pineapple Lemonade- A blend of Pineapple and Lemonade.
Pink Lemonade- A rich tasty Lemonade flavored nicotine salt pod.
Raspberry- A tasty sweet Raspberry flavor.
Raspberry Menthol- A blend of Raspberry and Menthol.
Strawberry- A taste of fresh Strawberries.
Strawberry Menthol- A blend of Strawberry and Menthol.
Watermelon- A taste of fresh Watermelon.
Lush On Ice- Watermelon, strawberry and a drop of mint.
Cotton Candy - sweet, caramel, jammy, fruity and berry like cotton candy.
Grape - grape flavors transformed into vaporizable liquids
Apple - The apple is the most popular fruit among the people, so this vapor takes the first place in desirability correspondingly.
Fruit Multi-Pack - Mango | Pink Lemonade | Strawberry | Pineapple Lemonade
Menthol Multi-Pack - Lush on Ice | Mango Menthol | Strawberry Menthol | Blueberry Menthol