Rincoe MechMan 80W Mesh Kit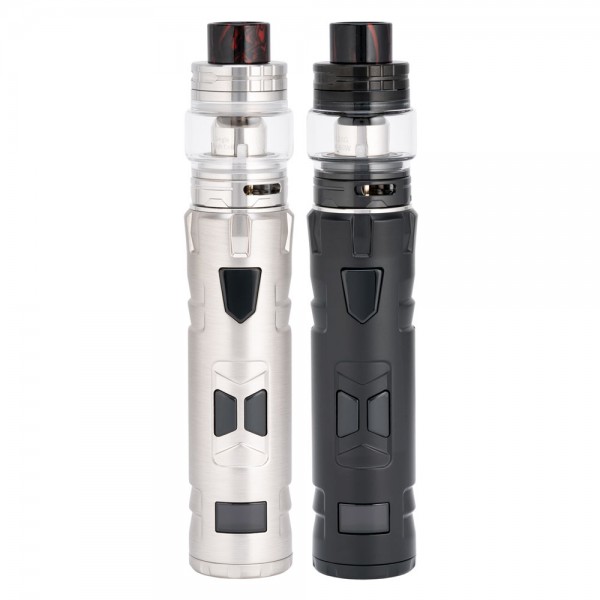 Rincoe MechMan 80W Mesh Kit
The Mechman 80W Mesh Kit FROM Rincoe is a visually striking starter kit, encapsulating astounding features like a bottom accessible single high amp 18650 battery, 80W max wattage output, and is paired with the new Mechman Mesh Sub-Ohm Tank to create deliciously flavored clouds of vapor.
RUGGED DESIGN AND POCKET SIZED - MechMan 80W Kit has a rugged appearance and is pocket-sized making it your best daily on-the-go device.
SCREEN AND BUTTONS TO ADJUST POWER - Multiple modes include VW Mode, Bypass Mode, and TC Mode (Ni/Ti/SS). It has a 0.19 inch LED screen toward the bottom of the device and also has buttons to adjust the modes and power, making all information clear and stable.
Mod Specifications:
Size: 27mm x 95mm

Power Range: 1-80W
TC Modes Support: Ni200 / Ti / SS316L
Power Mode:
0.08-5.0Ω (0.3Ω recommended) - Wattage (VW / BYPASS)
TC Mode:
0.05-3.5Ω (0.15Ω recommended) - TC (Ni / Ti / SS)
Battery: single 18650 high discharge cell (sold separately)
DIFFERENT KINDS OF PROTECTIONS - Over heating protection, reverse battery protection, overload/short circuit protection, low voltage protection, and 10 second cut-off.
REPLACEABLE 18650 BATTERY WITH USB CHARGING CAPABILITY - The MechMan 80W features a replaceable 18650 battery that is chargeable via USB cable, making the whole device easier to use and more durable.
MECHMAN MESH TANK - The MechMan Mesh Tank is perfect with the 80W MechMan Mod both in size and in user experience. The wide 810 resin drip tip will bring you increased airflow and excellent appearance. The compatible mesh coils make for better flavor too.
Tank Specifications:
Size: 28mm x 36mm
Material:
Resin Drip Tip
Stainless Steel & Quartz Bubble Glass
Tank Capacity: 4.5mL Max
Resistance:
Single 0.25Ω Mesh Coil (40-60W)
Dual 0.2Ω Mesh Coil (50-80W)
Drip Tip: 810
Thread: 510
Kit Includes:
1 x MechMan 80W Mod
1 x MechMan Mesh Tank
1 x Single Mesh 0.25Ω Coil (40-60W) (pre-installed)
1 x Dual Mesh 0.2Ω Coil (50-80W)
1 x Extra Bubble Glass Tube
1 x Certificate Card
1 x USB Charging Cable
1 x User Manual